Counseling Center
Ballard HS Counseling Resources
Book an Appointment with your Counselor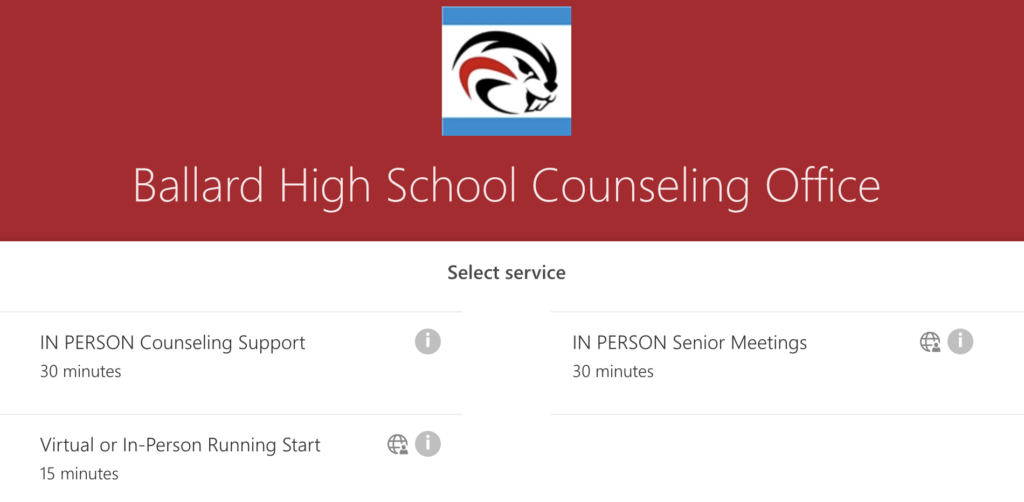 Counselor Support | Running Start | New Students
Select an option and then your Counselor's name.
Enter your FIRST & LAST name and correct SPS email address, or you will NOT receive a confirmation email with a link.
About Us
The BHS Counselors work with students to help them develop strategies for success in academics, social skills, and in considering their post-high school plans and career options.
Counselors encourage students to become aware of their individual strengths, develop methods for dealing with difficulties, setting goals, and to make good choices. Counselors also help students deal with social and emotional issues. Please visit the Counselor Schoology page for more resources.
Important! | Parents/Guardians are asked to wait outside the building when picking up your student for appointments this year. There are no visitors permitted inside school buildings, other than approved volunteers who have been vaccinated and completed a Health Screening. This is a District policy this year. Thank you for understanding.
Just In!
Kelsey Peronto, from Seattle Colleges Seattle Promise Scholarship Program, will be in the Counseling Center every Wed 8:45am to 2:20pm & Fri 8:45am to 3:35pm to meet with students. Students! Stop by if you need help with completing your Seattle Promise application or your FAFSA.
BHS Financial Aid Info Night | Oct 26 at 7pm via Teams. Please join the BHS Counselors and special guests for an online Financial Aid Night. While all BHS families are welcome to attend, this presentation will be most relevant for current junior and senior families. Learn More
Job Board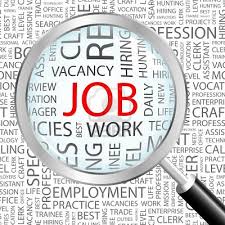 New! Chinooks At Salmon Bay | Front Desk and Bussers
Chinook's Restaurant, is looking for front desk and busser team members. We offer a fun, team orientated environment with great food and view. A flexible schedule, scholarship money and advancement opportunities are also available. Please apply in person any day between 2 and 5 pm at Chinook's in Fishermen's Terminal, 1900 West Nickerson. 206-283-4665. Learn More.
Bayview Retirement Community located on lower Queen Anne in Seattle is seeking a part-time Diet Aide and Server. This is an exciting opportunity for a personable, energetic, hands-on individual. Working as a dietary aide or server, you will be surrounded by people who are passionate about food, nutrition, service, and the community they represent. Must be willing to work on some weekend shifts. Learn More.

Miri's at Golden Gardens is a concession in the middle of Golden Gardens Park. They have been in business for 4 years. They share important skills that aren't learned in the class room but certainly support young people into thoughtful, smart, hard working, team oriented young adults. They are looking to hire a couple of high school aged students that would like to work with them through the winter. Learn More.
BHS only shares postings and does not endorse any of these businesses.
Just In!
Film and Career Day
Networking event for anyone interested a Career Path in the film industry:
What: Networking event for a career in film 
When: Saturday > November 6, 2021
Where: Virtual or in person-see website. 
100% FREE 
Ages 13-26
Career Connected Learning
What is Career Connected Learning?
CCL is an awareness program for rising Seattle students to explore careers, meet a variety of industry professionals, and build an initial career and education plan. Business partners and students can become involved through service-learning projects, work experience, and internships.
Career connected learning can be as simple a job shadow where a young person learns more about an occupation or business. Or in some cases it can be an internship, or a registered apprenticeship, where youth are paid while they learn hands-on skills.
Career Connected Learning Coordinators exist to provide students with information on careers, post-secondary education opportunities, administer career assessment tools, plan on site presentations and workshops, managing communication, and organize career fairs. Learn more about CCL on the district Career Connected Learning page.
BHS Career Connected Learning Coordinator: Brent Martin; brmartin@seattleschools.org
---
The Ballard HS Counseling Team
Students are assigned by the their Last Name.
Counselors work with students to explain the credit system and help select courses and support students needs.
Counselors also monitor progress toward achieving graduation requirements, explore interests, and make plans for college application and career options.
Follow Us!
Counselors YouTube Channel: bhsschoolcounselors
Follow Instagram @bhsschoolcounselors too!
Please refer OFTEN to all the Counseling Resources for current and helpful information for Ballard HS students and families.
In addition visit the Counselors Schoology page for more helpful resources and information for Ballard families.