Counseling Center News
Pease refer to the Counseling Center Overview for helpful information for students and families all school year long. Looking for College Visits & Events, Applying to College Resources including Scholarships or Jobs & Internships refer to the below links.
Breaking News!
Film and Career Day
Networking event for anyone interested a Career Path in the film industry:
What: Networking event for a career in film
When: Saturday > November 6, 2021
Where: Virtual or in person-see website.
10:30am: Virtual + In-Person Sites Open
11am: Opening Remarks + PAPER TIGERS Keynote
12pm: Panel: Where's the Work?
1245pm: Break
1pm: Speed Mentoring (and lunch at in-person venues)
2pm: Panel: What Streams May Come
245pm: Wrap!
100% FREE
Ages 13-26
Virtual – you can enjoy Film Career Day 2021 from wherever you choose, and network with presenters, industry pros, and local youth.
In-Person – we're setting up in locations in North and South Seattle! We'll have lunch and other hospitality available, and both are within walking distance of light rail and other public transportation. The virtual program will be streamed into your venue, with some in-person mentors and other resources available on site.
Sign up today: Don't miss out!
---
Seattle Promise Drop In Application or FAFSA Support
Kelsey Peronto, from Seattle Colleges – Seattle Promise Scholarship Program, will be in the Counseling Center every Wednesday 8:45am until 2:20pm & Friday 8:45am until 3:35pm to meet with students.
Students! Stop by if you need help with completing your Seattle Promise application or your FAFSA.
---
BHS Financial Aid Info Night | Oct 26 at 7pm
BHS Financial Aid Info Night | While all BHS families are welcome to attend, this presentation will be most relevant for current junior and senior families. Join the Teams link starting at 6:45pm. Event starts at 7pm
Agenda
7pm Welcome from BHS Counselor Gail Olson Laing
Kelsey Peronto our Seattle Promise Outreach Specialist will explain how every SPS graduating senior can get 2-years of free college through the Seattle Promise Scholarship at the Seattle Colleges (North, Central, and South). Learn more about the Seattle Promise Scholarship
David Aramaki is a financial professional and a member of the Pacific Northwest Association for College Admissions Counseling. He speaks to area high schools and local media about college financing.
Q & A from 8-8:15PM
Note: Will be recorded and recording posted later on the BHS Counseling Center YouTube Channel.
---
Seattle Promise Deadline Information
All Seattle Public Schools graduating seniors are eligible, regardless of grade point average, income or country of birth. Students will begin their studies at Seattle Colleges in Fall 2022. With up to two years of tuition-free college, you can dive into your studies and find an educational path that leads to a career you love. And, we'll be there every step of the way to help.
Students accepted to the program can receive up to two years (or 90 credits) of free college tuition at North Seattle College, Seattle Central College, or South Seattle College, as well as personalized support to transition from high school and succeed in college.
Fall 2021/Winter 2022 | APPLY
Spring/Summer 2022 | PREPARE

Readiness Academy May/June 2022
Summer Bridge Sept 13, 14, & 19, 2022
Fall 2022 | START

Begin classes as a full-time college student (12 credits) September 2022
Seattle Promise Translated Workshops
At these workshops, we will help students to complete the first steps in the scholarship process. We will assist students in completing the Seattle Promise application as well as the Seattle Colleges application.
We will also describe the next steps for students to complete and answer any questions.
Visit the BHS Applying to College page for more information for Ballard HS families or contact your BHS Counselor.
---
Exciting FREE Cybersecurity Student Career Expo!
T-MOBILE | Cyber Security Student Expo! | 10/27/21 2:30pm – 4:30pm
Found out how you can launch an exciting career in cyber security! Take advantage of the rare opportunity to hear from cyber professionals on how to pursue a career in cybersecurity. Register today! Email for questions: Dale.Bennett32@T-Mobile.com
---
UW Offers After School Enrichment Opportunity
The University of Washington Youth and Teen Programs is excited to offer a variety of remote courses for middle and high school students who seek after school enrichment opportunities. Courses run over 10 weeks starting in January. Visit the UW website for registration information and course details.
---
College Admissions & Options Resources Presentation to Seniors Recap
The BHS Counselors presented to all seniors an overview of the College Admissions & Options Resources for 2022 in their Language Arts classes at the end of September.
The information from the PowerPoint presentation to students is posted within the topics on the Applying to College page as well as on the Counseling Schoology page. Refer to additional helpful handouts below for Senior Families.
These resources are also posted on the BHS Counselors Schoology page.
---
Applying to Gonzaga University?
Contact BHS Counselor Ms. Bowman at sabowman@seattleschools.org for an application Fee Waiver!
---
What are Colleges Looking For?
Solid Academic Core (Required Classes, Rigor, Grades, Trends), Test Scores, Activities, Essays, Recommendations, Enthusiasm for School, and Perseverance.
---
Post High School Pathways
4-year College or University -> Community or Technical College -> Apprenticeship -> Military -> Gap Year and Service Programs -> Direct-to-Work
---
Chinooks at Salmon Bay Job Opportunities
Front Desk and Bussers | Chinook's Restaurant, is looking for front desk and busser team members. We offer a fun, team orientated environment with great food and view. A flexible schedule, scholarship money and advancement opportunities are also available. Pay is 16.69 per hour plus tips. We are looking for team members who are at least 17 years old, can work with a sense of urgency while showing care for our guest and fellow team members. Front Desk job duties include greeting and seating guests, answering phones and some cleaning duties. Busser job duties include clearing and setting tables, stocking and various cleaning duties.
Please apply in person any day between 2 and 5 pm at Chinook's in Fishermen's Terminal, 1900 West Nickerson. 206-283-4665.
---
Bayview Retirement Community PT Job Opportunities
Bayview Retirement Community located on lower Queen Anne in Seattle is seeking a part-time Diet Aide and Server. This is an exciting opportunity for a personable, energetic, hands-on individual. Working as a dietary aide or server, you will be surrounded by people who are passionate about food, nutrition, service, and the community they represent. Must be willing to work on some weekend shifts.
Benefits: Sick/Safe Time, Free meal with shift, Subsidized ORCA Card or Garage Parking if requested, On-site Wellness Center (no cost), Beautiful Queen Anne Location.
Responsibilities: Diet Aides are an essential part of what makes our company known for its great service. The Diet Aide is responsible for serving high quality food and beverages to residents of the assigned area (either Skilled Nursing Health Center or Assisted Living) in accordance with dietary restrictions and preferences, specified menus, recipes, techniques, laws, regulations, and safety guidelines. He/She/They serve food in a timely manner and in appropriate quantities. The Diet Aide helps in assessing the types of food with textures that meet the residents' needs and preferences by reviewing diet cards and serving meals appropriate for any noted dietary restrictions, accurately and efficiently, maintaining proper food temperatures and quality food appearance. Helps to assure that food products and supplies are in adequate supply in the kitchen; that storage of food meets current food safety guidelines, that all food safety principles are followed; that serving kitchen equipment and work areas are kept clean, orderly, and sanitary; and the manner of customer service results in a high degree of resident satisfaction.
Our Servers are responsible for providing residents, guests and staff who take meals in the dining room with prompt, efficient and courteous service. Sets tables in an attractive manner prior to customers arriving for meals, serves food (including beverages) in a professional manner, and clears tables and cleans dining areas in a timely manner. Provides information to customers regarding food and meal services. Receives and responds to comments from customers relating to Food Service.
Qualifications:
Current WA State Food Handlers Permit or obtained within 14 days of employment.
Ability to read and write English with accuracy or working toward this skill.
Demonstrates patience, a genuine caring attitude toward the elderly and disabled persons, flexibility, a positive outlook, the ability to focus on the strengths of other people, and a healthy sense of humor.
Understand and respects Residents Rights.
Learn more and apply online at the Bayview Seattle website.
---
Washington Student Achievement Council Financial Aid Applications
Apply Now for 2022-23 Financial Aid | Students can apply for financial aid for 22-23. Applying for financial aid gives you more options for the future.
In WA, there are two ways to apply for financial aid:
Most people should complete a  FAFSA (Free Application for Federal Student Aid). The FAFSA is used by U.S. citizens and eligible non-citizens to apply for both state and federal financial aid.
The WASFA (Washington Application for State Financial Aid) is an application for state financial aid only.
Applying for financial aid is a crucial first step toward college or job training. Many families assume they won't qualify, but there's more help available than ever before. Refer to our Financial Aid Calculator for more details. Learn more at wsac.wa.gov/apply.
---
Students! Helpful College Application Hints
Create an organization system with requirements and deadlines
Complete profile sections ahead of time when possible
Refine activities list
Don't wait until the last minute!
---
Miri's at Golden Gardens
Miri's at Golden Gardens is a concession in the middle of Golden Gardens Park. They have been in business for 4 years, and have hired SPS students each year. They share important skills that aren't learned in the class room but certainly support young people into thoughtful, smart, hard working, team oriented young adults. They are looking to hire a couple of high school aged students that would like to work with them through the winter. The position would include one weekday afternoon shift and one weekend day shift (approximately 10 hours/week). Please contact Miri Plowman at miriplowman@gmail.com for more details.
---
BHS Students What Counts For What?
Students wondering what courses count as CTE Credit or CTE or Science or ART or if Choir counts for PE view the What Counts For What list and find out for sure! If you have any questions at all you can contact your School Counselor too.
---
Book an Appointment with your Counselor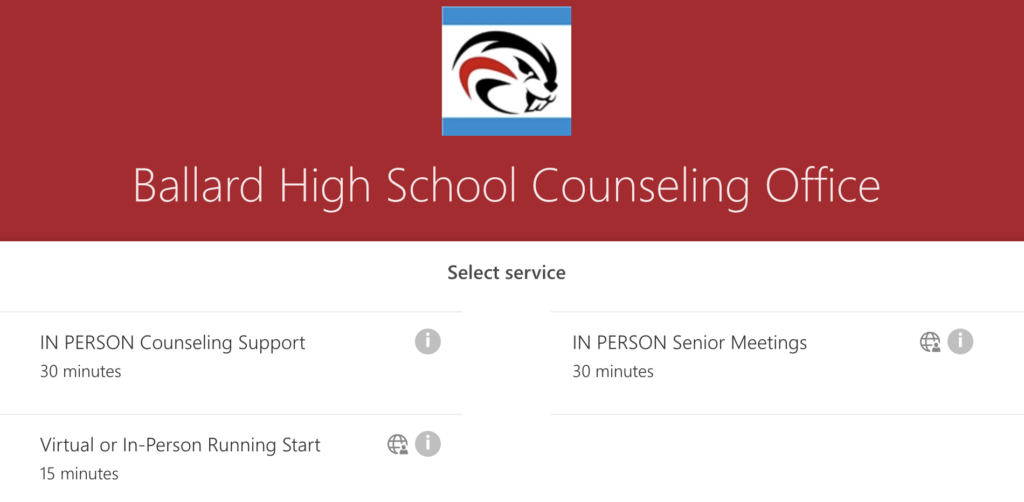 Counselor Support | Running Start | New Students
Select an option and then your Counselor's name.
Enter correct SPS email address, or you will NOT receive a confirmation email with a link.