Counseling Center News
Welcome students and families to our Counseling Center News and Resources.
Resources & Announcements
---
Seattle Parks and Recreation Jobs
Seattle Parks and Recreation is a great place to work. We have opportunities for a wide variety of skills, trades, and professional interests in our department. Come join our team!
Aquatics & Life Guard Jobs Posted!

Seattle Parks and Recreation is recruiting for temporary lifeguards and permanent lifeguards. Current Red Cross Lifeguard certification is required, and candidates must be at least 16 years old to apply. Learn more about what is available with the Seattle Parks and Recreation Department.
---
KASPARS CATERING – (Magnolia)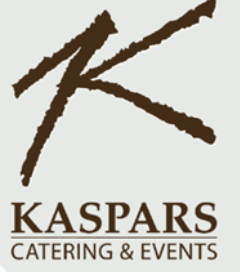 We have a variety of positions open for students for Full Time, Part Time and Summer Jobs. We offer flexible schedules, good pay, delicious meals, and many positions to try out and see what you enjoy!
Positions Available
Office Sales Intern
Warehouse Packing Assistant
Laundry and Cleaning
Dishwasher
Kitchen Helper
These positions could advance to working at events during the summer – weddings, galas, and corporate events and this is a great learning opportunity in a fun and local location. Please contact Nancy Donier at nancy@kaspars.com or 206-298-0123 or TEXT only to 206-799-6652.
---
Ballard Preferred Moving
Need a steady summer job?
$22.00 Hourly
No prior experience required
Contact: John O'Connell – Owner/Operator 206-914-4202
---
Pedal Heads
Pedal Heads will be running camps thought-out the summer in the Ballard, Fremont, Magnolia areas and throughout Seattle!
We're interested in hiring students for the summer! Have lots of laughs + fun, meet cool people and work outside. Make a difference in a kid's life. Learn more about our job opportunities on at our Pedal Heads site or email inof@pedalheads.com or call 1-888-886-6464.
---
Alaskan Copper Hiring
Alaskan Copper is a family run business that has been around for 100+ years. We are currently hiring in Seattle and Kent, WA. Minimum age is 18 years old. Email jobs@alaskancopper.com for more details.
---
Illumination Learning Studio Job Opportunity
The Illumination Learning Studio is looking for a summer camp assistant to join our team! In this role, you will be responsible for a group of campers during our summer camp weeks. Our camp lead will help manage your daily schedule and activities.
You will help in coordinating daily health checks, safety protocols, morning/afternoon activities, walking group, outdoor activities, and camper drop-off/pick-up. 2022 summer camp themes include: Wands at the Ready, Clay Creations, Lego Adventures, Fairy Tale Adventures, The Aristocats Musical, PNW Wilds & Water, and more! Please visit the Illumination Learning Studio website for more information.
---
University of Washington Summer Enrichment Classes
Registration is open for online and in-person summer enrichment classes at the University of Washington. This is a great opportunity for middle and high school students looking for unique learning opportunities. A variety of STEM and Arts/Humanities classes are scheduled including:
3D Design & CAD Modeling, Debate, DIY Electronics, Engineering Challenges, Esports, Gaming & Broadcasting, Coding in Python, Inside the Courthouse, Make It! Innovation Design Lab, Mixed Media & Mosaics Arts, Photography, Welcome to Ancient Rome: Latin Fundamentals, and a Writers Workshop
Visit youth-teen.uw.edu for registration information and to see a complete list of summer 2022 courses.
---
American Airlines Career Opportunities
Exciting American Airlines career opportunities at Seattle-Tacoma International Airport! We are the world's largest airline and have the newest aircraft among U.S. airlines.
• Join our diverse workforce of team members across the globe.
• You are why we flySM. Our team is what powers our airline, and every team member plays an important role in IIcaring for each other and our customers on life's journey.
Embark on a new adventure and discover careers at jobs.aa.com.
---
NW Youth Corps hiring now for summer positions!
Students considering a management career with the Forest Service or Bureau of Land Management should check this out.
What and when: Summer Jobs working in the Mountains of Washington
Northwest Youth Corps is hiring! Looking for members ages 16-19 to camp, explore, and work hard to restore the wild lands of the Pacific Northwest this summer. We have five-week paid sessions in WA, OR, and ID. Learn more at nwyouthcorps.org. Now accepting applications at Youth Crews – Northwest Youth Corps (workbrightats.com); contact zekez@nwyouthcorps.org for more info.
---
Miners Landing at Pier 57 in Seattle Historic Waterfront Hiring
Full and part time available, no experience necessary!
For More information, please contact the following:
---
Miri's at Golden Gardens
Miri's at Golden Gardens is a concession in the middle of Golden Gardens Park. They have been in business for 4 years, and have hired SPS students each year. They share important skills that aren't learned in the class room but certainly support young people into thoughtful, smart, hard working, team oriented young adults.
They are looking to hire a couple of high school aged students that would like to work with them. The position would include one weekday afternoon shift and one weekend day shift (approximately 10 hours/week).
Please contact Miri Plowman at miriplowman@gmail.com for more details.
---
Additional Resources
Responding to National Tragedy Resources
Resources from Ballard High School Staff
---
Graduation Requirements, College & Career Options Presentation Recap
The BHS Counselors presented to all seniors an overview of the College Admissions & Options Resources for 2022 in their Language Arts classes at the end of September.
The information from the PowerPoint presentation to students is posted within the topics on the Applying to College page as well as on the Counseling Schoology page. Refer to additional helpful handouts below for Senior Families.
These resources are also posted on the BHS Counselors Schoology page.
---
Diversity Empowerment Council (DEC) Presentation | Applying to College
Ballard HS Juniors & Seniors and families watch the below video presentation for helpful tips and important information about the College Application process, financial aid as well as other Post High School options. Refer to the the Counselor's Four Year Timeline for Applying to College check list too!
Follow the BHS Counselor's YouTube Channel for more helpful and informative videos!
---
Washington Student Achievement Council Financial Aid Applications
Apply Now for 2022-23 Financial Aid | Students can apply for financial aid for 22-23. Applying for financial aid gives you more options for the future.
In WA, there are two ways to apply for financial aid:
Most people should complete a  FAFSA (Free Application for Federal Student Aid). The FAFSA is used by U.S. citizens and eligible non-citizens to apply for both state and federal financial aid.
The WASFA (Washington Application for State Financial Aid) is an application for state financial aid only.
Applying for financial aid is a crucial first step toward college or job training. Many families assume they won't qualify, but there's more help available than ever before. Refer to our Financial Aid Calculator for more details. Learn more at wsac.wa.gov/apply.
BHS only shares postings and does not endorse any of these businesses.
---
Applying to Gonzaga University?
Contact BHS Counselor Ms. Bowman at sabowman@seattleschools.org for an application Fee Waiver!
---
All Ballard School News & Calendar Events
Visit the All School Running News & Calendar often for school events, awards and recognition, PTSA updates, Principal messages and other important news for Ballard HS students and families.
Check it out and stay connected!
---
BHS Food Pantry Counseling Center

The Ballard HS Counselors have partnered with the Ballard Food Bank to offer a Food Pantry at BHS for students and families to access. Students can stop by Room S217 during the school day to grab food items to take home.
If families would like, we can organize a take home bag for your student to take home or for families to pick up. Please reach out to BHS Counselor Ms. Bowman to arrange this at sabowman@seattleschools.org
Here us a list of our current food items
Canned soup (Red Pepper & Tomato, Broccoli Cheese, Chicken Noodle), Canned Chicken, Pasta Noodles, Tomato Pasta Sauce, Mac and Cheese, Lentils, Rice, Quinoa & Brown Rice, Ritz Crackers, Single serve Milk, Single serve Cheerios, Single serve Oatmeal, Single serve Peanut Butter, Single serve Jelly, Single serve Raisins
Visit the Ballard Food Bank – A Hub For Hope for more student and family resources as well.
---
Student Progress Reports
Progress Reports are available on the Source.
If you have a question about a grade talk to your teacher. Need a paper copy? Send an email to Carol Bristol, Counseling Secretary, at chbristol@seattleschools.org.
---
Book an Appointment with your Counselor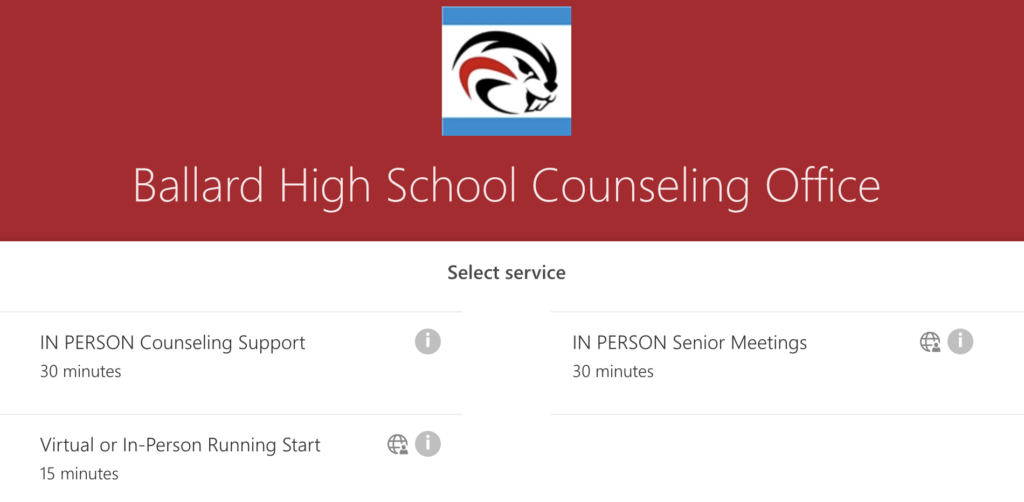 Select a service and date and Counselor:
In Person Support
Virtual or In Person Running Start Student
In Person Senior Meeting
Enter your FIRST & LAST name and correct SPS email address, or you will NOT receive a confirmation email with a link.
Note: Students you can also book and appointment via your counselors Schoology page.
---
Can't Find What You Are Looking For?
Email me with tips on information you would like located here or better ways to support your searches on the Ballard HS website. Diane Taylor, BHS Website Editor at dmtaylor@seattleschools.org Thank you!