Counseling Center News
Counseling News & Jobs Info
Welcome Students and Families
Ballard HS only shares these postings and does not endorse any of these businesses.
News & College Preparation Events
Drop-In College Application Support Dec 7 & Jan 4
Seniors come to the BHS Counseling Center to get help filling out your college applications after school from 2:30 p.m. – 3:30 p.m. on the following Wednesdays: Dec 7 & Jan 4. Bring your laptop for a work session or stop by to ask the Ballard HS Counselors questions.
Counselors will be available to help Seniors with questions about the Common Application, sending Transcripts through Naviance, Seattle Promise Scholarship application, or any other applying to college questions. Plan ahead–Don't wait until the last minute to get help!
---
Ballard HS Special Education Parent Info Night Dec 6
Ballard's Special Education Department will be hosting a BRIDGES & Department of Vocational Rehabilitation (DVR) Parent Information Night on Tues, Dec. 6 from 5 – 6 p.m.
Representatives from the Seattle Public Schools BRIDGES Program and Division of Vocational Rehabilitation (DVR) will be here to speak about their programs and how they can support students. They will present and then be available to answer questions.
Department of Vocational Rehabilitation (DVR)

Offers career-interest services and supports in high school, then offers supports with obtaining and succeeding at a job (including on-job supports); any student with a disability that impacts their job potential is eligible.

BRIDGES

Seattle Public Schools transition service pathways for students who will continue with SPS after completing their graduation requirements, including academic and job-focused tracks.
Questions?
Robyn Maddess ramaddess@seattleschools.org or David Furman, djfurman@seattleschools.org
---
Seattle Promise Support at Ballard HS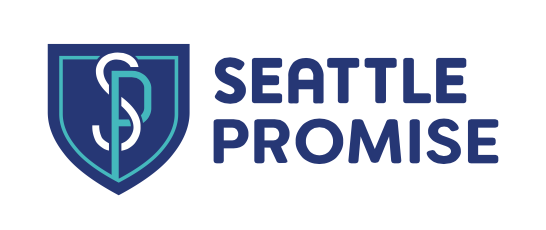 Students & Parents Too: Come to the BHS Counseling Center and meet up with the BHS Outreach Specialist Nancy Le on the following days and times.
It's highly encouraged and as I support the students if parents can come in with their student would be the best-case scenario.
Wednesday: 9 a.m. -2:25 p.m.
Thursday: 9 a.m. – 3:40 p.m.
Nancy Le (she/her)
BHS Outreach Specialist | Seattle Promise
Phone: 206-661-1290 | Work Cell | Text OK
Seattle Promise Website
---
Seattle Promise Workshops via Zoom (Not through BHS)
To learn more about how to apply, families can attend one of several upcoming application workshops. At this workshop, students complete the first steps in the scholarship process. They will also describe the next steps in the scholarship process and answer any questions you may have.
Join by phone: Call 206-337-9723 and enter meeting ID: 338 490 7332
Monday, Nov. 21, 5:30-7:30 p.m. Languages: Amharic and English
Questions? Email Promise@seattlecolleges.edu or Read more about the Seattle Promise scholarship.
---
Applying for Financial Aid
Seattle students follow many paths upon graduation from high school. For seniors interested in college, completing a FAFSA or WASFA is one of the first steps to receive college financial aid. Visit the district post for more information and the Ballard HS Applying To College Dashboard for many resources and information from your BHS Counselors.
---
Changes to the FAFSA
Class of 2023! Lots of changes with FAFSA. Check out this article What To Know – New FAFSA Changes for helpful information.
---
Job, Internship Opportunities
Bank of America Student Leaders
As a Student Leader, you will participate in an eight‐week paid internship at a local nonprofit organization where you will learn first‐hand about the needs of your community and the critical role nonprofits play. If you are a current junior or senior in high school with a passion for improving your community, we want to help you turn that passion into action, apply today!
To become a Student Leader, you must:
Currently be a junior or senior in high school, Live in one of the eligible counties (King, Snohomish, and Pierce County), Be able to participate in an 8‐week paid summer internship at a local nonprofit/charitable organization and work 35 hours a week, Be legally authorized to work in the US without sponsorship through the end of September 2023, Be able to participate in a week‐long Student Leadership Summit in Washington, DC – All expenses paid as part of Student Leaders. This week will be part of your 8‐ week experience, Be a student in good standing at your school.
Visit the Bank of America Student Leaders page for more information.
---
Kringle's Filling Station Seasonal Event Staff
Experiential Design Firm seeking outgoing and friendly retail/ concessions staff for Holiday Pop-up, Kringle's Filling Station. This is a seasonal gig from Nov 21 – Dec 31.
Hours will vary – weekend and evening availability required. This is an indoor/ outdoor event and may require physical activity as well as standing for long periods of time.
Duties include but are not limited to:
Providing warm & friendly customer service
Answering guest questions and giving information about the Kringle's
Ensuring guest safety by keeping a watchful eye on surroundings
Operating POS system and cash register
Maintaining clean and safe workplace
Daily opening and closing tasks
Miscellaneous tasks requested by Kringle's Operations Manager
Wage: $18 per/ hr. For interest, please email Raelene Plant: r.plant@hotopp.com and visit our website to see what Kringle's is all about,
---
Umpires & Referee Jobs
Umpires Northwest LLC and Sports Officials Northwest LLC are looking for New and/or Experienced umpires and referees to become part of our continued success in WA State. Great way to make money to help pay for college. Are you looking for work, or just looking to earn extra money. officiating is a great part time way to do so. Do you enjoy being around this great game? Now is the time! The season is here, come Play Ball with us! Great Pay, Flexible Schedules, weekday, and weekend schedules available.
Compensation is $35-70 per game depending on the sport and level officiated. Note: This is a part-time job. If interested or would like more information, please contact: Pablo de Leon 206-271-3722 Pablo@umpiresnw.com or Steve Reed 206-962-9113 steve@umpiresnw.com or sportsoficialsnw@gmail.com. More information is available on our Umpires Northwest LLC website or on the Sports Officials Northwest site too.
---
Wilderness Intercity Leadership Development Job or SL
Wilderness Inner-City Development (WILD) serves low-income Asian and Pacific Islanders ages 14-19 through its award-winning environmental justice leadership program. Their mission is to Advancing social justice and equity for low income, Asian and Pacific Islanders, refugee, and immigrant communities.
The programs are called: Seed to Plate – focusing on environmental justice, food, sovereignty, and climate change. The second program is called Climate Coding– a coding program focusing on building a game with a climate change lens. The third program that we're offering is Climate and Culture – a monthly gathering meeting at cultural center or a nature reserve with a climate change lens. We want to make sure that more youth, especially youth of color, are able to access nature and to see the effects that climate change is having on our environment. The programs will run from Nov 1 through Dec 13, 2022. Stipend or After School Service Learning both available. Learn more about Wilderness Inner-City Leadership Development
---
Kaspers Catering (Magnolia 34th & Emerson)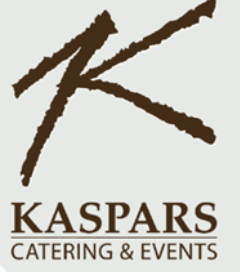 We have a variety of positions open for students for Part Time and into next Summer Jobs. We offer flexible schedules, good pay, delicious meals, and many positions to try out and see what you enjoy!
Positions Available: Warehouse Assistance, Laundry, Dishwashers and Kitchen Helpers
These positions could advance to working at events – weddings, galas, and corporate events and this is a great learning opportunity in a fun and local location. During school year these positions are usually on Saturday and Sundays. Flexible hours available during the summer and school holidays. Please contact Nancy Donier at nancy@kaspars.com or 206-298-0123. Location is 3656 34th Ave West, in Magnolia near Metropolitan Market.
---
Burbs Burgers is Hiring
Burbs Burgers now hiring in Ballard, Montlake, Georgetown and Pioneer Square locations. They are looking for a Cashier to manage all transactions with customers accurately and efficiently. Responsibilities include receiving payments and issuing receipts, packaging orders and keeping track of all customer needs. Please send your Curriculum Vitae (CV) to hello@burbsburger.com
---
The Pantry PT Dishwasher Needed in Ballard
The Pantry is a gathering place that builds community through food, classes, and shared stories. We believe in cultivating relationships, supporting an equitable food system, creating inspiring food careers, and engaging in joyful eating.
We're currently in need of a part-time dishwasher. We're looking for someone with a positive attitude, a good work ethic, and a personable approach that is good with working both front and back of the house. A plus if you're interested in food and cooking you'll be in the company of chefs and will have access to so much good food! The schedule is flexible with our biggest need being nights and weekends. Shifts are typically 4.5 hours long each. Training for this position is $18/hr, and the regular pay rate is $24/hr once trained.
Please send a resume and cover letter to deanna@thepantryseattle.com.
---
Bob Johnson's Pharmacy Assistant Opportunity
Bob Johnson's Pharmacy is hiring a pharmacy assistant. We consider ages 16+. Preference given to those who will be available for 2+ years.
Bob Johnson's is an independent pharmacy in the Ballard/Crown Hill neighborhood. We've been here since 1957 and our team treats each other as a family. We are seeking a friendly and enthusiastic person. Duties include ringing out customers, answering phones, and putting away orders. This is a fantastic opportunity for anyone interested in working in the healthcare field. All enthusiastic people are welcome to send a resume to matt@bobjohnsonspharmacy.com or call 206-782-5822.
---
Resources
Letter of Recommendation from your Counselors
Seniors needing a letter of recommendation from their BHS School Counselor (applying to independent/private colleges) will need to answer questions on the "Student Information Sheet" form & attach a resume or activity log.
Counselor Letters of Recommendation describe the student holistically as a person. Please allow a minimum of 2 school weeks before your first deadline. Letters will not be provided without this form being completed within this time frame. Complete the online "Student Information Sheet" by logging on with your SPS school email address.
---
Final Year of High School Presentation to All Seniors
The Ballard HS Counselors presented to all Seniors an overview of the College Admissions and Options Resources in their Language Arts class last week. Parents and Seniors please review this IMPORTANT information that is for ALL Seniors from the Ballard HS Counselors PowerPoint Presentation, the information is also posted on the Counseling Schoology page and updates to all the topics and timeline are on the Applying to College and Post High School Option pages.
---
Colleges Like
Check out Colleges Like | This is a (free) new website designed to help with your seniors college search. Our BHS Counselors particularly like how if you are interested in a certain college it will generate a list of others you may want to consider and has short videos on financial aid, types of colleges, etc.
---
Washington Student Achievement Council Financial Aid Applications
Apply Now for 2022-23 Financial Aid | Students can apply for financial aid for 22-23. Applying for financial aid gives you more options for the future.
In WA, there are two ways to apply for financial aid:
Most people should complete a  FAFSA (Free Application for Federal Student Aid). The FAFSA is used by U.S. citizens and eligible non-citizens to apply for both state and federal financial aid.
The WASFA (Washington Application for State Financial Aid) is an application for state financial aid only.
Applying for financial aid is a crucial first step toward college or job training. Many families assume they won't qualify, but there's more help available than ever before. Refer to our Financial Aid Calculator for more details. Learn more at wsac.wa.gov/apply.
---
How To: Book an Appointment with your Counselor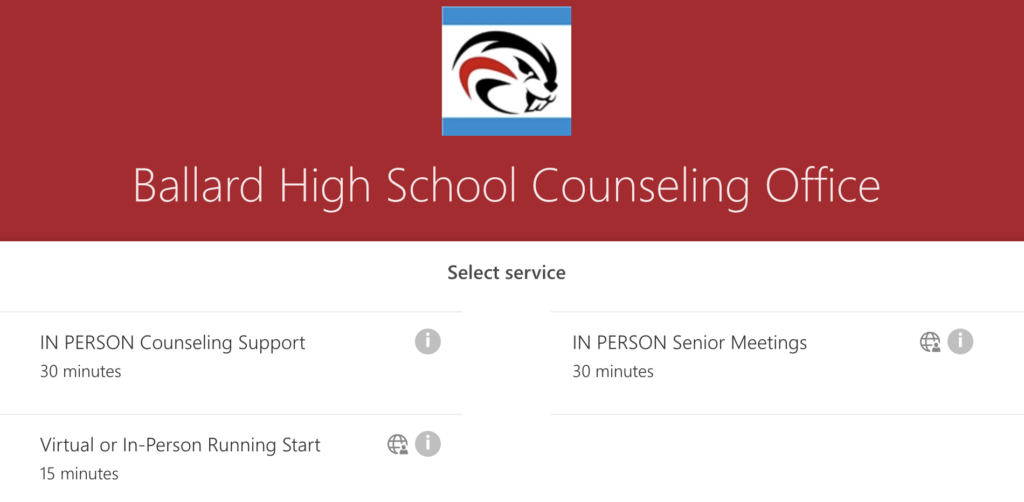 Select a service and date and Counselor:
In Person Support
Virtual or In Person Running Start Student
In Person Senior Meeting
Enter your FIRST & LAST name and correct SPS email address, or you will NOT receive a confirmation email with a link.
Note: Students you can also book and appointment via your counselors Schoology page.
---
Reminders
Students should only participate in an opportunity they feel is safe to them.
BHS only shares these postings and does not endorse any of these businesses.
---
Can't Find What You Are Looking For?
Email me with tips on information you would like located here or better ways to support your searches on the Ballard HS website. Diane Taylor, BHS Website Editor at dmtaylor@seattleschools.org Thank you!