Counseling Center News
Counseling News & Jobs Info
Welcome Students and Families
Ballard High School only shares these postings and does not endorse any of these businesses.
Counseling Center News
FAFSA & WASFA Announcement
BIG changes are coming to the 2024-25 Federal Application for Student Aid (FAFSA) application including when you can apply. The FAFSA form will not open until December. The WASFA (Washington Application for State Financial Aid) will also be delayed until the FAFSA opens.
This delay is due to some positive changes in the financial aid application process including a shorter less complex form, more students being eligible for Pell Grants, and larger Pell awards. More on financial aid information is available on the Wa Student Achievement Council site.
---
Drop In Help with College Admission Applications
Seniors! Come get help with your college admission applications! Drop-in help is available in the counseling center on the following Wednesdays after school from 2:30 – 3:30 p.m.
Sept. 27
Oct. 4 and Oct. 18
Nov. 1 and Nov. 22
Dec. 6
Jan. 3 and Jan. 31
Bring your laptop and/or your questions!
---
Elks Most Valuable Student Scholarship Award
The Ballard Elks Lodge awards three local male and female students $1,000.00 each to be used towards college tuition. Applicants do not need to be related to a member of the Elks. Applicants may also advance and be considered for additional State and National Elks scholarships.
Read the FAQ for more details.
Eligibility:
Current high school seniors, or the equivalent, who are citizens of the US are eligible to apply.
Applicants do not need to be related to a member of the Elks.

Be sure to select "Ballard Elks" during the application process
Applicants will be judged on scholarship, leadership, and financial need.
---
YESL Pre-Employment Program Applications Close Sept 24

This training program is designed to prepare and inform youth about skills such as growth mindset, time management, resume writing, interview prep, and much more. The class consists of 14 two-hour sessions held virtually over a span of 7 weeks. Please note that a computer or laptop with a functioning camera and microphone is required for program participation (phones are not an acceptable option). You must participate both visually and orally in the group discussions to be eligible for a stipend upon completion.
Classes start the week of October 16 running through December 5. There are two sessions available for youth ages 13 to 14. The first option is on Mondays and Wednesdays from 4:30 p.m. to 6:30 p.m., and the second option is Tuesdays and Thursdays from 4:30 p.m. to 6:30 p.m. Additionally, there is one session available for youth ages 15 to 18, scheduled for Tuesdays and Thursdays from 4:30 p.m. to 6:30 p.m. After submission, no confirmation email will be sent.
Receive support & mentoring from the YESL Staff
Enhance your job experience
This program will be virtual
Earn a $300 stipend towards program expenses
For seattle residences or students attending Seattle Public Schools. Laptop/computer with camera and Internet are needed for this program. Register by Sept 24!
---
King County Safe Place at BHS Sept 26 at Lunch
Safe Place is a crisis intervention and homelessness prevention program that provides youth under the age of 18 with immediate help and supportive resources; often by helping them find emergency shelter or reuniting them with their family when appropriate.
Safe Place is a program that quickly connects runaway and homeless youth ages 12-17 to services, either by reuniting them with their family or providing assistance with emergency shelter placement. Youth can go to Safe Place sites or call our 1- 800-422-8336 (TEEN) number, and Safe Place staff will be able to provide assistance. Safe Place can also be reached by email at SafePlace@friendsofyouth.org
There will be a Safe Place Team at Ballard on Tuesday, Sept 26. They will have a table set up in the Commons outside the Main Office during lunch for students to stop by.
---
Woodland Park Zoo Career Exploration Day Oct 13
Welcome to Zoo Careers Exploration Day 2023! Join us this fall to learn and explore diverse career pathways and see firsthand what Woodland Park Zoo is all about! You'll hear from a career panel of zoo professionals and have a chance to ask all the questions. We'll take you behind the scenes to see up close what different zoo careers are like, and you'll get some tips about educational paths and experiences that can help launch you into a zoo career. And of course…you'll get to see some animals. Don't miss out on this amazing experience!
Date/Time: October 13, 9:30 a.m. – 4 p.m. (SPS no school on 10/13)
Price: $50 (scholarships available)
Audience: Teens (14-19)
Food: BYOL! (Bring Your Own Lunch)
Location: Woodland Park Zoo, Center for Conservation and Wildlife
Agenda:
AM: Career Panel w/ Breakout Sessions, Keeping it Wild program
PM: 5 different behind-the-scenes tours with hands-on activities (students will choose one)
This all-day event will allow high school students to explore different careers at the zoo! We'll be highlighting topics such as empathy for wildlife, advocacy, and conservation. This is a great opportunity for teens curious about careers in animal welfare, exhibit design, conservation and more.
---
Job Board Spotlight
Kaspers Catering (Magnolia 34th & Emerson)
We have positions currently open for students for Part Time Jobs. We offer some flexible schedules, good pay, delicious meals, and different positions to try out! Positions Available: Warehouse Assistance, Laundry, Dishwashers and Kitchen Helpers
These positions could advance to working at events – weddings, galas, and corporate events and this is a great learning opportunity in a fun and local location. During school year these positions are usually on Saturday and Sundays. Flexible hours available during the summer and school holidays. Please contact Lucas Weber at lucas@kaspars.com. Location is 3656 34th Ave West, in Magnolia near Metropolitan Market.
---
Jobs, Internship Opportunities
Help Plan MLK Day 2024
The Martin Luther King Jr. Organizing Coalition of Seattle, is looking for excited high school student interns to aid in event planning for MLK Day 2024.
The Coalition is an all-volunteer, non-profit organization dedicated to celebrating the life and legacy of Dr. Martin Luther King Jr. Apply by 5 p.m. Wednesday, Sept. 27. Learn more and apply on the Seattle MLK Coalition site.
---
Ace Mentor Program
The ACE Mentor Program of America, founded in 1994, is a no-cost after-school program that prioritizes workforce development for high school students by connecting them with experts from the design and construction industry.
Registration is on a first-come, first-served basis, with the exception of seniors and returning students getting higher priority. Registration due Oct. 13. Learn more and apply on the Ace Mentor website.
---
Regional Internship Opportunities
---
College Visits & Event News
---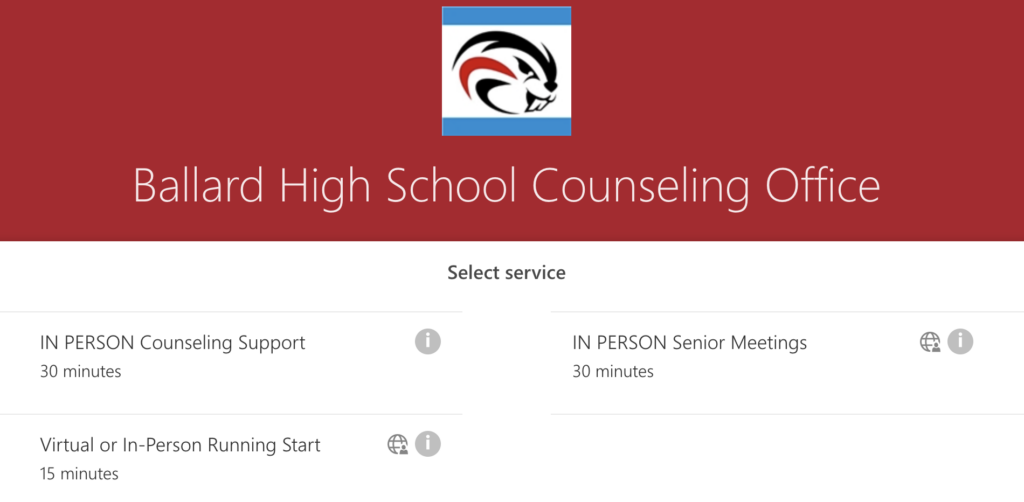 Resources
Book an Appointment with your Counselor or Social Worker
---
Reminders
Students should only participate in an opportunity they feel is safe to them.
BHS only shares these postings and does not endorse any of these businesses.
---
Can't Find What You Are Looking For?
Email me with tips on information you would like located here or better ways to support your searches on the Ballard HS website. Diane Taylor, BHS Website Editor at dmtaylor@seattleschools.org Thank you!