Incoming Students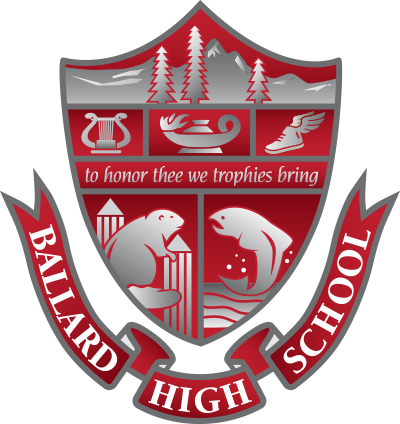 Welcome Incoming Families!
Welcome Class of 2027!
Stay Connected & Informed
Ballard HS Resources
How do I request that my student be assigned to Ballard High School for next year?
All student assignments are done centrally at the Seattle Public Schools' John Stanford Center for Education Excellence. The most up-to-date enrollment information can be found at the district website.
The 2023-2024 Open Enrollment period to request to attend a school other than the one listed in the student's initial assignment letter is from February 1 – Feb 28 at the John Stanford Center. By February 28, families should have submitted School Choice applications directly to the John Stanford Center.
Once we are assigned to Ballard High School, when will my student choose their 9th grade classes?
By April 19, 2023 the Seattle School District will give Ballard High School the names of all students assigned to us for next year. We will then email registration information to all incoming new students/families. Students at SPS middle schools will choose courses online via their Source page. Out of district students will complete a Course Selection Form. We will be offering virtual and in-person opportunities to get questions answered April 19 – April 28 (specific dates tbd).
My student receives Special Education Services. What is the registration process for my student?
Once students have been assigned to Ballard High School in April, we will reach out to all incoming families the week of April 17, 2023. We will also host an Open House on April 25, from 4:00 – 6:00 p.m. in the BHS Library for parents who would like to meet with the Special Education Department regarding their student's schedule and options for 9th grade.
What are the required 9th grade classes?
Here is a typical 9th grade schedule at Ballard High School:
Intro to Literature and Composition
World History 1 and 2
Math: based on student's 8th grade course
Science: Biology. All 9th graders will be taking Biology or Biotech Biology
Health* and PE, or Music, or elective course such as Digital Film, Intro to Engineering
World Language or other elective
* Health is a required, one-semester 9th grade course. If you are taking music or another year-long course and therefore do not have room in your schedule, you may delay taking health until a later year if necessary.
What Honors or AP courses are available?
Please see the Course Catalog in the Academics section of our website for all current course offerings. In addition, our School Profile, located under the About Our School tab, lists this year's AP, Honors and College courses in the High School course offerings.
How is placement in 9th grade math or world language determined?
Students should consult with their current 8th grade teachers regarding the appropriate next level in these subjects. Students should meet any course progression recommendations as stated in the Course Catalog, but a placement test or specific letter grade is not required. Students select the courses they think are appropriate for them in consultation with their families. If you have questions regarding course placement, please contact the World Language Dept. Chair: Eileen Yardley emyardley@seattleschools.org, or the Math Dept. Chair: Janine Logsdon jmlogsdon@seattleschools.org.
Is World Language required?
World Language is required for admission to most four-year colleges and universities. Students planning to go to a four- year college or university after high school should take at least two years of a single world language (for instance, Spanish 1 and Spanish 2; French 1 and French 2; Japanese 1 and Japanese 2).
What are Academies or Pathways?
Ballard High School offers several Academies and Pathways. Academies and Pathways are arranged around a theme or subject. Students do not have to select an Academy or Pathway. Approximately one third of our students choose to do so; all other students choose a wide range of required and elective courses. Please refer to our Course Catalog for a description of each Academy or Pathway, including the specific courses required.
Ballard High School offers these career focused opportunities:
Academy of Finance
Biotechnology
Digital Filmmaking
Ballard Maritime
Project Lead the Way (Pre-Engineering Pathway)
Who do I contact if I have questions about one of these Academies or Pathways?
For more specific information on each Career Focus Opportunities, refer to our Course Catalog. In addition, some of these programs have their own websites, indicated next to the teacher contact info below.
What music classes are available to 9th graders, and are auditions required?
Please refer to our Course Catalog for all of the course offerings in the Music Department. Please visit the BHS Performing Arts website for more information. Below are the specific musical groups available to 9th graders, including information regarding auditions. To schedule an audition, please e-mail the Director listed under Contacts. Auditions will begin in late April.
Courses available to 9th graders:
Concert Band: Open to all incoming 9th grade band students. Middle school band experience or instructor permission required. No audition required.
Symphonic Band: Audition required for incoming 9th graders. Middle school band experience or instructor permission required.
Wind Ensemble: Audition required for incoming 9th graders. Middle school band experience or instructor permission required.
Jazz Bands: Audition required for both jazz bands. This is an additional before-school class. Concurrent enrollment in a large ensemble class is required.
Percussion: Open to all incoming 9th graders with middle school band percussion experience, or by audition. Symphonic Orchestra: Open to all 9th grade string players. Middle school orchestra experience or instructor permission required. No audition required.
Chamber Orchestra: Audition required for incoming 9th graders. Middle school orchestra experience or instructor permission required.
Treble Choir: Open to upper soprano and alto voices all in grades 9-12. No Audition required.
Concert Choir: Open to lower tenor and bass voices in grades 9-12 (see Ms. Rowley for voice placement). Open to upper soprano and alto voices in grades 10-12 by audition.
Contacts:
Mr. Jay Gillespie, Director of Bands; jrgillespie@seattleschools.org
Mr. Dan Valdez, Director of Orchestras; dmvaldez@seattleschools.org
Ms. Courtney Rowley, Director of Choirs; chrowley@seattleschools.org
What is Link Crew?
Ballard HS has a Link Crew Program which is a national high school program that welcomes freshmen and makes them feel comfortable throughout the first year of their high school experience. Link Crew trains members of the Junior and Senior class to be Link Leaders.
Getting a diverse group of leaders from all corners of Ballard High School is vital to creating a group that will engage all members of school. As positive role models, Link Leaders are motivators, leaders and teachers who guide the freshmen to discover what it takes to be successful during the transition to high school.
Informational Videos
Learn more about all the things that happen in and around the BHS Library with Teacher-Librarian TuesD Chambers.
---
Virtual Tour of the BHS Library
---
SPS Enrollment Process 24-25
Refer to the district Student School Assignment for more information. The School Choice process for 2024-25 will open on February 1, 2024. Visit the district School Choice and Open Enrollment page for district enrollment information.
---
Can't Find What You Are Looking For?
Email me with tips on information you would like located here or better ways to support your searches on the Ballard HS website. Diane Taylor, BHS Website Editor at dmtaylor@seattleschools.org Thank you!