PTSA
BHS PTSA
Ballard HS relies heavily on parent volunteers to help provide the best possible experience and opportunities for all students…even more so now!
Becoming a BHS PTSA member, advocate, or volunteer helps close that funding gap. Families you can help by advocating and voting for increased funding for schools at the National PTA, State PTA and local Seattle SCPTSA level
Visit the Volunteer Opportunities page to see how you can help out at Ballard HS no matter how big or small and feel free to contact anyone currently on the PTSA for more information too. Read issues of the PTSA Weekly Newsletter to stay informed.
BHS PTSA Roles & Postions Open for 22-23
We have many roles and open position opportunities. Take a look at our PTSA pages and talk to our members to find the right fit for you!
What Does the PTSA Do?
We Need Your Voice on the BHS PTSA Board!
Consider may opportunities listed below and reach out to Michelle Renn at join.bhs.ptsa@gmail.com if you are interested in learning more. Transition training offered for each role. Grab a friend, have fun and help support your students, positions can also be shared with another volunteer.
Executive Committee
President: Open
Vice President: Open
Executive Board
Volunteer Coordinator: Open
Legislative Liaison: Seeking Co-Chair
Family & Community Engagement (FACE): Open
Standing Committee
Social Media: Open
Direct Appeal Fundraising: Open
SPREE: Open
Reflections: Open
---
Nominate Your Favorite Ballard High School Teacher, Staff Member or Volunteer for an Award!
Do you know a BHS Teacher, Staff Member or Volunteer who goes out of their way to make an outstanding impact at Ballard?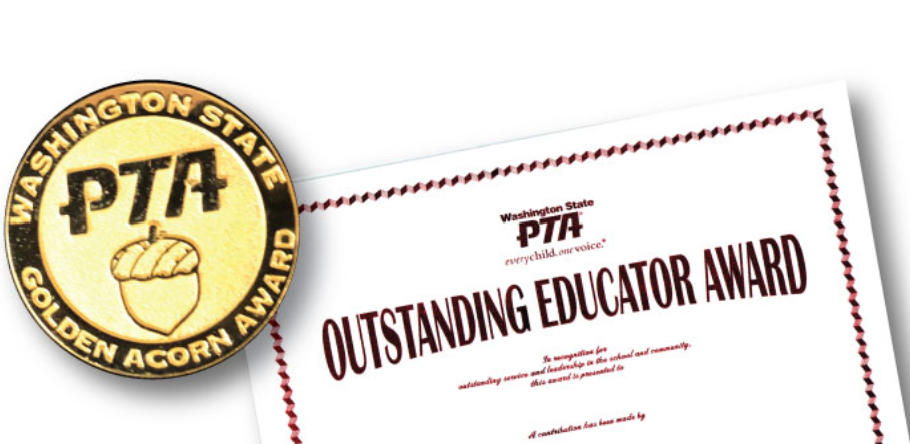 Every year, the BHS PTSA gives out recognition awards at our year-end June General Meeting.
Honorees receive a certificate and pin, and a contribution is made in their name to the WA State PTA Scholarship Program.
Email PTSA President Gloria Kruzner at bhs.ptsa.pres@gmail.com your nominees, along with a few details why you've chosen them.
We're accepting award nominations through Monday, May 23. Winners will be celebrated at our 7 p.m. June 9 General Meeting.
---
Who We Are
The Ballard HS PTSA is run by volunteers that donate their time to help promote and support the social, emotional, and academic well-being of all students.
The work we do raises funds to run programs that provide academic opportunities, teacher and staff support, and backing for student activities. You can make a difference! We need your voice!
* Join * Donate * Get Involved * Volunteer *
Join the PTSA
Anyone who supports Ballard High students, staff, and families is welcome to join the Ballard High PTSA and volunteer to support our endeavors.
This includes everyone our name implies (Parents, Teachers, and Students), as well as alumni, grandparents, extended family members, community members, and more!
View the PTSA Welcome with Membership Sign-Up to get started!
---
PTSA Virtual Meetings 2021-22
The BHS PTSA looks forward to sharing dynamic programs for our school wide General Meetings this school year! Make sure to put our General Meetings on your calendar, all at 7 p.m. via Microsoft Teams. Contact us at bhs.ptsa.pres@gmail.com to learn more. Meetings include committee and principal updates, we'd love to have you join us and find out how you can get involved too!
Board Thursday, June 9, 5:30 p.m.
General Membership Thursday, June 9, 7 p.m.
---
Meet Some of the BHS PTSA Members
Watch for more PTSA Member Introductions in the PTSA Weekly Newsletter!
---
PTSA Board 21-22
Executive Committee
President: Gloria Kruzner, bhs.ptsa.pres@gmail.com
Vice President: Michelle Renn, bhs.ptsa.vp@gmail.com
Treasurer: Shelley Rousseau, bhs.ptsa.treas@gmail.com
Secretary: Gena Mason Frank, bhs.ptsa.sec@gmail.com
Executive Board
Executive Committee: Includes list above
Volunteer Coordinator: Sarah Visser, volunteers.ballardhs@gmail.com
Membership Chair: Lisa Vanderford, bhs.ptsa.membershipchair@gmail.com
Legislative Liaison: Brian Duncan, bhs.ptsa.legislative@gmail.com
Acting Principal: Dr. Joseph Williams, jowilliams@seattleschools.org
Principal: Keven Wynkoop, kswynkoop@seattleschools.org
Building Leadership Team (BLT): Glory Frodesen, gloryf@msn.com
Family & Community Engagement (FACE):
Brenda Savage, bhs.ptsa.face@gmail.com
Standing Committee
PTSA Newsletter: Gloria Kruzner, ballardhighnews@gmail.com
Stand Alone News: Chuck Fuller, bhs.ptsa.site@gmail.com
Social Media: Carey Mialovich, bhs.ptsa.socialmedia@gmail.com
Diversity, Equity, and Inclusion (DEI): Shelley Bolser and Naida Boyer, DEIatBHS@gmail.com
Grants: Lori Wilbur, bhsgrants@gmail.com
Direct Appeal Fundraising:
Erika Goodmanson, bhs.ptsa.directappeal@gmail.com
SPREE: Becky Moore, becky@beckymoore.com
Reflections: bhs.ptsa.reflectionscmte@gmail.com
Staff Appreciation: Michelle Peters, mpeters@eagleeyes.biz
and Lisa Vanderford, bhs.ptsa.membershipchair@gmail.com
Auction/BASH Coordinators:
Deb Fitzpatrick and Carol Cheyne, ballardauction@gmail.com
PTSA Website: Chuck Fuller, bhs.ptsa.site@gmail.com
Ballard HS Communication Liaison/BHS Web Editor:
Diane Taylor, dmtaylor@seattleschools.org
---
Volunteer Opportunities
Parents/Guardians We Need You!
In addition to becoming a BHS PTSA Member, volunteering is a great way to support your student, volunteering doesn't mean you have to be in the building or make a long term commitment it can also mean contributing to our Staff Appreciation call outs or when we might need snacks for students during testing days. Every contribution is appreciated!
Please visit the What Does the PTSA Do page to find all the many different ways to volunteer and show your support for the BHS PTSA and Ballard High School.
---
PTSA Legislative Corner
BHS Legislative Liaison Updates
Students, Apply for Role in Legislature By May 15
Applications for the WA Legislative Youth Advisory Council (LYAC) close May 15! This opportunity is for Washington students who are passionate about advocating for youth in our legislature. No prerequisites are required except a dedication to change. The Council consists of 22+ students ranging in age from 14 to 18, who serve as the official voice of WA youth to the State Legislature. LYAC students develop a deep understanding of public policy issues and legislative strategy by personally lobbying legislators, testifying before the Legislature, organizing civic engagement events for peers throughout the state, and more.
Each year, 11 or more new students are selected for a two-year commitment to serve on the Council, during which they dive into the legislative process with mentors who advise them on effectively advocating for meaningful policy changes.
The program is fully youth-led with oversight from the Office of the Lieutenant Governor. For an application and to learn more contact Ryan Jackson from the Office of the Lieutenant Governor at ryan.jackson@ltgov.wa.gov.
View the more BHS Legislative updates on the What Does the PTSA Do page and email Brian Duncan at bhs.ptsa.legislative@gmail.com if you have any questions or would like to know how you can help and be better involved.
Seattle Council PTA (SCPTSA) Advocacy
Visit the Seattle Council PTSA website for current updates and information for families to stay up to date on issues.
Current Call to Action: Refer to the SCPTSA News posts often to stay up to date on current issues.
Washington State PTA (WSPTA) Advocacy
Any PTA member is encouraged to submit an issue, or a resolution, or learn more about the legislative principle that addresses concerns that affect children on a statewide level to the Washington State PTA (WSPTA). The WSPTA relies on its members to provide the priorities that we will advocate for at the state level and within our communities.
View the WSPTA video page for more information.
---
Follow and Connect With Us!
Follow us on the school's PTSA social media sites.
@BallardHSPTSA
BHSClassof2022
@BHS.PTSA
The Ballard High School PTSA is a 501(c)(3) entity, Federal Tax ID #91-1303069