PTSA
BHS PTSA
Ballard HS relies heavily on parent volunteers to help provide the best possible experience and opportunities for all students…even more so now! We Have Key 22-23 PTSA Roles Open! PTSA President, Vice President. Learn more.
Who We Are – Become a Member
Becoming a BHS PTSA member, advocate, or volunteer helps close that funding gap. Families you can help by advocating and voting for increased funding for schools at the National PTA, State PTA and local Seattle SCPTSA level
Visit the Volunteer Opportunities page to see how you can help out at Ballard HS no matter how big or small and feel free to contact anyone currently on the PTSA for more information too. Read issues of the PTSA Weekly Newsletter to stay informed.
The Ballard HS PTSA is run by volunteers that donate their time to help promote and support the social, emotional, and academic well-being of all students.
The work we do raises funds to run programs that provide academic opportunities, teacher and staff support, and backing for student activities. You can make a difference! We need your voice!
* Join * Donate * Get Involved * Volunteer *
Join the PTSA
Anyone who supports Ballard High students, staff, and families is welcome to join the Ballard High PTSA and volunteer to support our endeavors.
This includes everyone our name implies (Parents, Teachers, and Students), as well as alumni, grandparents, extended family members, community members, and more! View the Membership Sign-Up to get started!
PTSA Board 22-23
Executive Committee – Looking to Fill Key Roles
President: Open, join.bhs.ptsa@gmail.com
Vice President: Open, join.bhs.ptsa@gmail.com
Treasurer: Shelley Rousseau, bhs.ptsa.treas@gmail.com
Secretary: Gena Mason Frank, bhs.ptsa.sec@gmail.com
Executive Board
Executive Committee: includes the positions listed above
Volunteer Coordinator: Open, join.bhs.ptsa@gmail.com
Membership Chair: Lisa Vanderford, bhs.ptsa.membershipchair@gmail.com
Legislative Liaison: Seeking Co-Chair with Brian Duncan,
bhs.ptsa.legislative@gmail.com
Principal: Ms. Abby Hunt, abhunt@seattleschools.org
Building Leadership Team (BLT): Kristi De Vaddar; knistidv@gmail.com
Family & Community Engagement (FACE): Open,
join.bhs.ptsa@gmail.com,
Standing Committee
PTSA Newsletter Co-Editors: Angela Clement & Gloria Kruzner,
ballardhighnews@gmail.com
Stand Alone News: Chuck Fuller, bhs.ptsa.site@gmail.com
Social Media PTSA Facebook, Instagram, Twitter: Open,
ballardhighnews@gmail.com
Social Media (FB Class of 2023): Diane Taylor, dmtaylor@seattleschools.org
Diversity, Equity, and Inclusion (DEI): Shelley Bolser and Naida Boyer,
DEIatBHS@gmail.com
Grants: Libet Wallblom, libetwallblom@gmail.com and
Nancy Wesche, nwesche@hotmail.com
Direct Appeal Fundraising: Open, join.bhs.ptsa@gmail.com
SPREE: Shelby Reynolds, shelbyreynolds@live.com and
Danielle Steele, steele.danielle@yahoo.com
Reflections: Anna Harper, aharper@starbucks.com
Staff Appreciation:
Lisa Vanderford-Anderson, bhs.ptsa.membershipchair@gmail.com
and Michelle Peters, mpeters@eagleeyes.biz
Auction Coordinators: Deb Fitzpatrick and
Carol Cheyne, ballardauction@gmail.com
PTSA Website: Chuck Fuller, bhs.ptsa.site@gmail.com
Ballard HS Communication Liaison/BHS Web Editor:
Diane Taylor, dmtaylor@seattleschools.org
---
Volunteer Opportunities
Parents/Guardians We Need You!
In addition to becoming a BHS PTSA Member, volunteering is a great way to support your student, volunteering doesn't mean you have to be in the building or make a long term commitment it can also mean contributing to our Staff Appreciation or when we might need snacks for students during testing days. Every contribution is appreciated!
Please visit the What Does the PTSA Do page to find all the many different ways to volunteer and show your support for the Students, Teachers and Staff at Ballard High School.
---
Meet Some PTSA Members
21-22 Welcome | Hi, my name is Shelley Rousseau, a parent of two students at Ballard—a junior (Jack) and a sophomore (Emme). My husband and I moved from Chicago to Seattle in 2001, and we have lived in the neighborhood, just down the street from the high school, ever since.
I have been active as a volunteer in various roles supporting Ballard Performing Arts and now PTSA as Treasurer. Prior to having children I was a history teacher, and I previously worked in finance. My role with PTSA is a great way to stay engaged in the school community, and allows me to use my skills in ways that helps others. I really enjoy working with the other parents and the broader Ballard community.
It's great to be back in school, and I'm looking forward to helping PTSA support our students and programs. Email Shelley at bhs.ptsa.treas@gmail.com.
21-22 Welcome | Hello, I'm Gloria Kruzner, parent of a sophomore and a senior (and a BBHS 2017 alum, ahem!), PTSA President and PTSA Newsletter Editor. I joined the PTSA because I've enjoyed volunteering at my kids' schools over the years, and although I usually purchased a PTSA membership, I never really attended a meeting.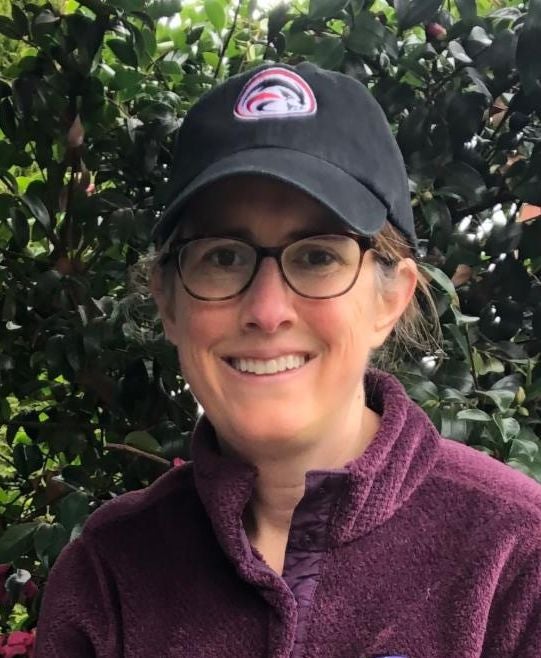 A chance posting that I did on the Friends of Ballard Facebook (go Botany Plant Sale!) led to me being asked to edit the newsletter. Which led to attending those dreaded meetings!
But, I've come to find out they are actually really fun (especially online – !) and it's great to see all the focused work on behalf of our students and staff. I love learning more about our community and bringing information to you every week throughout the school year in the newsletter.
As one who was hesitant to sit at the table, let me know what I can do to make the PTSA more accessible for you! We want all our voices represented on our team. Reach out at bhs.ptsa.pres@gmail.com. Go Beavers!
21-22 Welcome | Hello! I'm Gena Mason Frank, parent of a Senior and a Sophomore at Ballard, as well as a 7th grader at Whitman.
While I've been involved with both Whittier and Whitman when my kids were younger, I noticed that as my kids got to High School I felt less connected to the school and to other parents.
I joined the PTSA to be a bigger part of the high school school experience for myself, but also for my kids. It's my first year as PTSA Secretary, and I'm excited to be a part of a fun team of parents, but to also get to know administration and staff as well. I look forward to meeting new people and seeing your faces (virtually) at our next PTSA meeting! Gena's email is bhs.ptsa.sec@gmail.com
21-22 Welcome | Hi there, I'm Michelle Renn, parent of twin juniors (go class of 2023!) I joined the PTSA when my kids were freshman and served as Secretary for the past two years. This year, I am honored to be supporting the PTSA as Vice President.
I have loved being involved with the schools my kids attended beginning way back in kindergarten. I was the Live Auction Chair at Coe Elementary for several years and enjoy getting to know the administration, staff and fellow parents.
I feel more connected to the BHS community, and in turn my kids, after our monthly meetings. We are always happy to welcome new members and look forward to seeing you (virtually for now) at an upcoming meeting.
---
PTSA Legislative Corner
BHS Legislative Liaison Updates
Time to Raise Our Voices | June 2022
The Ballard High School PTSA joins the National PTA in calling upon Congress and the Administration to immediately address the many factors that contribute to the rampant gun violence in the United States.
This includes:
✓ Funding research on the causes and effects of gun violence on youth and communities, as well as evidence-based strategies to reduce gun violence.
✓ Establishing education programs to teach students, parents and community members about gun safety and violence prevention.
✓ Requiring a waiting period and a comprehensive background check for all individuals prior to purchasing a firearm.
✓ Restricting internet gun sales, including kits that can be used to make and modify guns.
✓ Banning access to military-style semi-automatic assault weapons.
PTA offers an easy-to-use dashboard to take action on this issue.
In addition, the local nonprofit Alliance for Gun Responsibility has additional resources and Every town for Gun Safety has more sample letters as well. Thank you for joining us in action.
Seattle Council PTA (SCPTSA) Advocacy
Visit the Seattle Council PTSA website for current updates and information for families to stay up to date on issues.
Call to Action: Refer to the SCPTSA News posts often to stay up to date on current issues.
Washington State PTA (WSPTA) Advocacy
Any PTA member is encouraged to submit an issue, or a resolution, or learn more about the legislative principle that addresses concerns that affect children on a statewide level to the Washington State PTA (WSPTA). The WSPTA relies on its members to provide the priorities that we will advocate for at the state level and within our communities.
View the WSPTA video page for more information.
---
Follow and Connect With Us!
Follow us on the school's PTSA social media sites.
@BallardHSPTSA
BallardHighPTSA
@BHS.PTSA
The Ballard High School PTSA is a 501(c)(3) entity, Federal Tax ID #91-1303069