What Does The PTSA Do?
All the Ways the PTSA Supports Ballard HS!
PTSA General Meetings
PTSA Board & General Meetings for 22-23
Nov. 3 Board Meeting at 7 p.m. 
Dec. 1 Board Meeting at 7 p.m. 
Jan. 5 Board Meeting at 7 p.m.
Feb. 2 Board Meeting at 5:30 p.m. and Winter General Meeting at 7 p.m.
Mar. 2 Board Meeting at 7 p.m.
Apr. 6 Board Meeting at 7 p.m.
May 4 Board Meeting at 7 p.m.
June 1 Board Meeting at 5:30 p.m. & Spring Awards Night General Meeting at 7 p.m.
* TBD if meeting will be online or in person
---
PTSA Weekly Newsletter
The BHS PTSA Communication Team: Angela Clement, Gloria Kruzner, Chuck Fuller and Diane Taylor help get information out in various ways to the BHS Community via the PTSA Newsletter, Instagram, Facebook Accounts, Twitter and information posted on the School Website. The BHS PTSA Weekly Newsletter is a PTSA member volunteer run informational newsletter that is emailed to subscribed families with important information for families and students as well, including sports, clubs, performing arts, community news and more! View past PTSA Newsletters.
If you are not receiving the newsletter or want to add a 2nd email or a student (Personal email NOT student SPS email) Subscribe via the online sign up form or email ballardhighnews@gmail.com (include your students grade & name).
---
BHS PTSA Membership
Join the BHS PTSA, become a partner in your student's education.
The PTSA is you, me and all of the parents/guardians, students and staff dedicated to the educational development and success of all students. The PTSA membership is open to anyone concerned about the education, health, and welfare of our youth and is a way to show your commitment to working with teachers and the school administration to build a better future for the next generation.
We help families stay informed and connected to the school community.
We plan school-wide celebrations, parent education and staff appreciation events.
We raise much needed grant money for academic, enrichment and extracurricular activities.
View the PTSA Welcome Packet with Membership, Volunteering and Teacher Support Fund Information.
Warm Regards , PTSA Membership Chair, Lisa Vanderford-Anderson, bhs.ptsa.membershipchair@gmail.com.
---
Thank You Back to School Volunteers!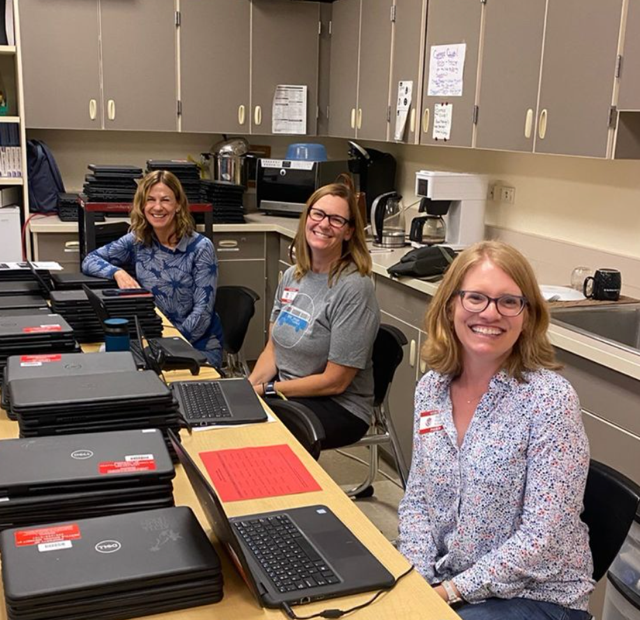 Finding out we were headed back to school 15 hours before Wednesday morning's "go time" meant flexibility on the part students, staff and all our parent/guardian volunteers.
A special thanks to Volunteer Coordinator Tanya King and the many (50+) group of volunteers who showed up to help with back to school projects around the school.
Your support benefits our entire school community! We Appreciate YOU!
---
PTSA Staff Appreciation Volunteers
Thank you to the Staff Appreciation Volunteers for 22-23; Lisa Vanderford-Anderson and Michelle Peters who treated BHS Staff on their first day back!
There was some amazing breakfast items with Starbucks coffee and pastries.
Later in the day there was a tasty lunch service from Ripe Catering with sandwiches too!
---
PTSA Building Leadership Team (BLT)
The purpose of the Building Leadership Team (BLT) as stated in its by-laws is "to promote and facilitate the collaborative decision making process which affects academic achievement, and to advise and consent on building management issues." Specifically, the BLT oversees the facilitation and development of the Continuous School Improvement Plan (CSIP), school-wide professional development plan, and the school's budget. Questions? Email PTSA BLT Rep: Kristi De Vaddar, knistidv@gmail.com
---
Family And Community Engagement (FACE)
We are currently looking for a FACE Chair: The Family and Community Engagement (FACE) committee engages in a variety of activities to foster awareness of both the needs and resources in the Ballard High School community. This has included facilitating guest speakers addressing topics such as suicide awareness, supporting students and families during the COVID-19 crisis and college prep and other career pathways.
FACE volunteers help facilitate and coordinate the Weekend Food For Kids program, sponsored by the Ballard Food Bank. This program helps ensure our BHS families in need have sufficient food on weekends. The FACE committee also helps coordinate BHS's Bucky's Holiday Giving program which is designed to assist our families who may not have the financial stability to enjoy the holiday season as much as many BHS families.
Interested? Email PTSA Interim President Gloria Kruzner, bhs.ptsa.pres@gmail.com
---
Passive Fundraising Programs
Passive fundraising programs are easy ways to support BHS academics and PTSA initiatives while you do your back to school shopping!