Course Offerings Gr 9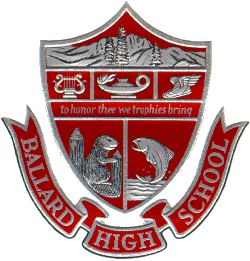 Ballard High School
School Year 23-24
Course Offerings 23-24
Grade 9
Refer to the BHS Course Catalog for complete list, full names, & course descriptions.
Legend
* Asterisk: application, audition or teacher/counselor consult
AC – Counts as Art Or CTE credit
CTE – Career & Technical Education
Prerq: Prerequisite
Bold – New Course '23-'24
Language Arts
Intro to Lit Comp 9A/9B
Social Studies
World History 1

Math
Algebra 1A/1B, Honors avail
Algebra 1A/1B with Lab
Geometry A/B, Honors avail
Algebra 2A/2B, Honors avail
Pre-Calculus A/B
Pre-Calculus A/B Honors
Calculus A/B
AP Calculus AB A/B
AP Calculus BC A/B
Prob & Stats A/B
AP Statistics A/B

Science
Biology
Biotech Bio 1/2

World Language
French 1A/1B
French 2A/2B
French 103 3A/3B
French 4A/4B
AP French 5A/5B
Japanese 1A/1B
Japanese 2A/2B
Japanese 113 3A/3B
Japanese 4A/4B
AP Japanese 5A/5B
Spanish 1A/1B
Spanish 2A/2B
Spanish 103 3A/3B
Spanish 4A/4B
AP Spanish 5A/5B
AP Spanish Lit A/B (6)

Business & Marketing (CTE)
Accounting 1 (sem)
Marketing 1 (sem)
Marketing 2 (sem)
Entrepreneurship 1 (sem)
Social Media Advertising & Mktg (sem)
Computer Applications (sem)

Journalism (CTE)
Journalism Writing (sem)
Publishing Journalism 1 & 2 (yr)
Publishing Yearbook 1 & 2 (yr)

Technical Education (CTE)
Woods 1 (sem)
Metal 1 (sem)
Graphic Design Beg (sem)
Robotics 1 & 2 (sem or yr)

Computer Science (CTE)
Immersive Media A (sem)

Performing Arts/Music (Art)
Guitar Lab 1 (sem)
Piano Lab 1 (sem)
Theatre Play Production (sem) (after school)
Tech Theatre Beg (sem) AC
Tech Theatre Adv (sem) AC
Theatre Beginning (sem)
*Percussion Ensemble A/B (yr)
*Symphonic Band A/B (yr) AC
*Wind Ensemble A/B (yr) AC
*Symphonic Orchestra A/B (yr) AC
*Chamber Orchestra A/B (yr) AC
Treble Choir A/B (yr)
*Concert Choir A/B (audition/yr) AC
AP Music Theory A/B (yr)
Concert Orchestra A/B (yr) AC
Concert Band A/B (yr)

Digital Filmmaking (CTE or Art)
Video Beginning A/B (sem or yr) AC

Family & Consumer Science (CTE)
Apparel & Textiles 1 (sem)
Food Science 1 (sem)
Food Science 2 (sem)
Human Development (sem)
Independent Living (sem)

Health & Physical Education
Health (sem)
Lifetime Activities/Yoga (sem)
Personal Fitness (sem)
Weight Training (sem)

Project Lead the Way (CTE)
Intro to Engineering Design I/II (yr)

Special Education
A member of the BHS Special Education department will review your selections. Consult with your current IEP teacher to help with selections.

Multilingual Learners
Please connect with your ML teacher to discuss your selections.

Other Electives
Career Connections 1 & 2 (CTE credit)
As of April 6, 2023