Course Offerings Gr 9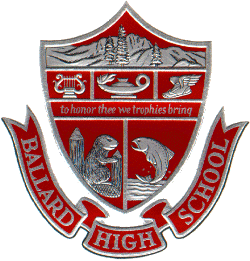 Ballard High School
School Year 22-23
Course Offerings 22-23
For Reference Only | Grade 9
Refer to the BHS Course Catalog for complete list, full names, & course descriptions.
Legend
* Asterisk: application, audition or teacher/counselor consult
AC – Counts as Art Or CTE credit
CTE – Career & Technical Education
Prerq: Prerequisite
Bold – New Course '22-'23
Language Arts
Intro to Lit Comp 9A/9B
Intro to Lit Comp 9A/9B Honors
Social Studies
World History 1 & 2

Math
Algebra 1A/1B, Honors avail
Algebra 1A/1B with Lab
Geometry A/B, Honors avail
Algebra 2A/2B, Honors avail
Pre-Calculus A/B
Pre-Calculus A/B Honors
Calculus A/B
AP Calculus AB A/B
AP Calculus BC A/B
Prob & Stats A/B
AP Statistics A/B

Science
AP Environmental Science
AP Physics A/B
Biology
Biotech Bio 1/2
Chem B/Chem C (prerq Bio, Geo recom'd, yr)
Oceanography (prerq Biology)
Phys B/Phys C (prerq Bio, Phys A/Chem A)
Phys B/Chem B (prerq Bio, Phys A/Chem A)

World Language
French 1A/1B
French 2A/2B
French 103 3A/3B
French 4A/4B
AP French 5A/5B
Japanese 1A/1B
Japanese 2A/2B
Japanese 113 3A/3B
Japanese 4A/4B
AP Japanese 5A/5B
Spanish 1A/1B
Spanish 2A/2B
Spanish 103 3A/3B
Spanish 4A/4B
AP Spanish 5A/5B
AP Spanish Lit A/B (6)

Business & Marketing (CTE)
Accounting 1 (sem)
Marketing 1 (sem)
Marketing 2 (sem)
Entrepreneurship 1 (sem)
Social Media Advertising & Mktg (sem)
Computer Applications (sem)

Journalism (CTE)
Journalism Writing (sem)
Publishing Journalism 1 & 2 (yr)
Publishing Yearbook 1 & 2 (yr)

Technical Education (CTE)
Metal I (sem)
Graphic Design Beg (sem)

Computer Science (CTE)
Immersive Media A/B (yr)

Visual Arts (Art)
Art Survey (sem)

Performing Arts/Music (Art)
Guitar Lab 1 (sem)
Theatre Play Production (sem) (after school)
Tech Theatre Beg (sem) AC
Tech Theatre Adv (sem) AC
Theatre Beginning (sem)
*Percussion Ensemble A/B (yr)
*Symphonic Band A/B (yr) AC
*Wind Ensemble A/B (yr) AC
*Symphonic Orchestra A/B (yr) AC
*Chamber Orchestra A/B (yr) AC
Treble Choir A/B (yr)
*Concert Choir A/B (audition/yr) AC
*Chorale A/B (audition/yr) AC
AP Music Theory A/B (yr)
Concert Orchestra A/B (yr) AC
Concert Band A/B (yr)

Digital Filmmaking (CTE or Art)
Video Beginning A/B (yr) AC

Family & Consumer Science (CTE)
Apparel & Textiles 1 (sem)
Food Science 1 (sem)
Food Science 2 (sem)
Human Development (sem)
Independent Living (sem)

Health & Physical Education
Health (sem)
Individual Sports/Racket Sports (sem)
Lifetime Activities/Yoga (sem)
Personal Fitness (sem)
Weight Training (sem)
Physical Education Partner (sem)

Project Lead the Way (CTE)
Intro to Engineering Design I/II (yr)

Special Education
A member of the BHS Special Education department will review your selections. Consult with your current IEP teacher or Katie Huguenin kwhuguenin@seattleschools.org to help with selections.

English Learners
Please connect with your EL teacher to discuss your selections.

Other Electives
Career Connections I/II (CTE credit)
Antiracism & Civic Engagement (sem) (Soc Studies elective)
As of April 6, 2022