Pick Up Your ASB Card/Student ID Card
Posted: | Updated:
Summary: ASB Cards. Why pay the ASB Fee?
All Students: Why Buy an Activity Card?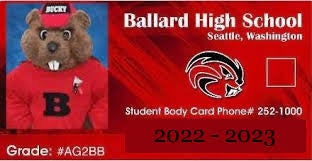 Announcements
Student ID's: Students please pick up your Student ID/ASB Cards in the BHS Main Office.
---
Activity Card Details
All students who tryout/participate in a Ballard athletic team or are in the BPA Marching Band are required to pay a Activity Card Fee for $35.00.
All BHS students can purchase a ASB Card as paying the fee allows students to receive free admission to BHS home games (discounted for Football games). Students who pay the activity fee will also get a discount on school dances. Parents/guardians may pay via SchoolPay on the Source.
Your Student ID card becomes an Activity Card when you have paid the ASB Fee and either get a sticker or a stamp on your Student ID Card.
Students Purchase Activity Cards (Pay Fee) in the AC
Activity Cards are the Student ID Cards with either a ABS Sticker or printed stamp on the Student ID. ASB Card fees can be paid daily during break, lunch, and after school in the Activity Center (AC). Please bring exact cash or a check payable to Ballard HS in the amount of $35.00.
Pay the ASB Fee on School/Pay on the Source
Logon to the Parent Source/SchoolPay
Verify that you are on the right student account
If the ASB Fee option is not displayed on SchoolPay, check the payment history to see if the ASB Fee has already been paid.

Open the History menu in the upper right portion of your screen
Select Items Purchased. SchoolPay will provide a search menu
Select the date range and student, and click the Search button
Follow the ASB Instagram @BallardStudentLife