Service Learning: Spotlight Salmon Data Analysis Needed
Posted: | Updated:
Summary: Spotlight Salmon Data Analysis Service Learning Hours.

Spotlight
Service Learning Opportunity
Salmon Data Analysis Needed
Who: Students with an interest in data manipulation and analysis

Skills Needed: Analyzing and organizing raw and statistical data, creating charts, Excel spreadsheets, tables, graphs etc. using provided information. Interested working with data and crunching numbers.

When: Now

The goal is to create data analysis with results ready to be presented by the end of June 2023.

Where: Analysis of the salmon data could be done at home, library etc.
Salmon Data Analysis Overview
The Carkeek Watershed Community Action Project (CWCAP) is looking for a student(s) to review the information and raw data that has been collected by volunteer Stream Teams during the return of adult salmon to Piper's Creek each fall season for the last 10 years. Each fall season, the stream team collects data on a variety of parameters from each salmon that returns.
This current raw data will be provided to students as a mixture of hard copy and electronic docs. The hard copy and electronic data will need to be manipulated into an appropriate data analysis format. Ideally, the data analysis would be presented to the CWCAP at the end of this June. The analysis would include such things as: changes in standard lengths of male and female salmon over time, the start/end of run times, percent of total spawned adults, etc.
Students interested in becoming a voice for the data, the stories that may be revealed in the data analysis and influencing the educational messaging provided to the public, please reply to Dan Hannafious at seasis_tech@seattle.gov
Carkeek Watershed Community Action Project Background
Salmon were reintroduced to Carkeek Park in the 1980's, and have been returning to Piper's Creek every fall season since then. The Carkeek Watershed group has worked with the WDFW and Suquamish tribe to ensure the salmon runs persist. They do this by monitoring the returning adult salmon in the fall, and by maintaining a remote hatchery pond for releasing juvenile salmon in the spring.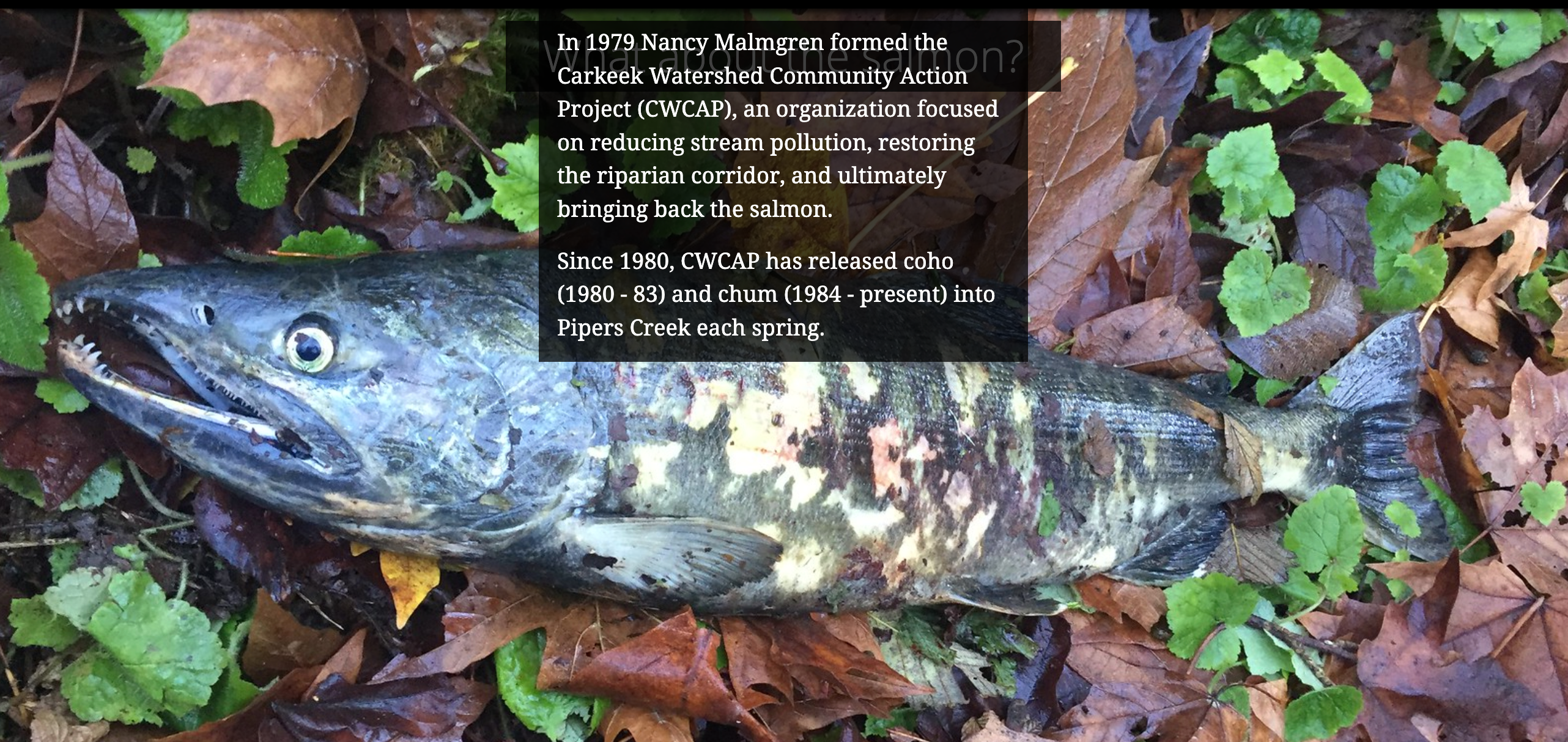 Salmon in the School Program
These efforts are also associated with the Salmon in the School program in which schools from across the Seattle area have the opportunity to raise salmon from eggs until it is time to release them as fry.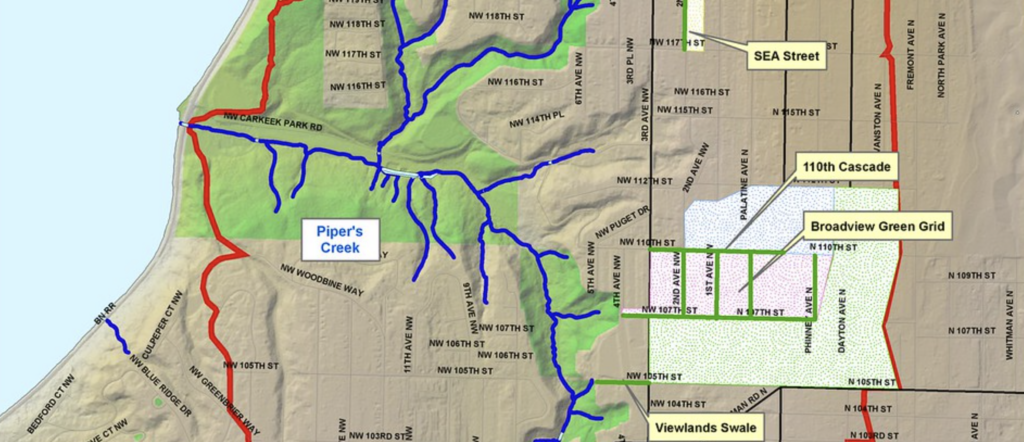 The remote hatchery pond is used briefly to imprint the young salmon on the waters where they will return as adults. Visit the CWCAP Website to learn more about the Carkeek story which includes the images used above and how it relates to the Salmon in Seattle story.
Thank you, Dan Hannafious
Carkeek Watershed Community Action Project, Board Member
Salmon the Schools, Regional Support Technician
Email: seasis_tech@seattle.gov
---
Service Learning Hours Information
One of the graduation requirements for Seattle Public Schools is 60 hours of Service Learning for all students. Service learning is giving time, without pay. Students may not be paid or earn credit for their hours. Service Learning allows students to learn and to apply academic, social and personal skills through activities and is important in helping build a resume for college, learn leadership, apply for jobs or other opportunities including scholarships. Students make a difference and address authentic community needs. As part of service learning, students are asked to reflect and report on their experiences.
Ballard HS Seniors have the opportunity to earn the Above and Beyond Service Learning Award (240 or more hours). Seniors must complete and turn in a Service Learning Form to have hours count by May 26, 2022.
Students please visit the Ballard HS Service Learning pages to learn about more opportunities around Seattle.