Not Too Late! PTSA Direct Appeal Fundraising for Academics
Posted: | Updated:
Summary: Donate today to Support the BHS PTSA Academics Fund.

Donate today to Support the BHS PTSA Academics Fund
Direct Appeal dollars directly support academics at Ballard High School. The image shows some recent PTSA grant beneficiaries, from career/technical education, to science, to language arts, to library titles, to mathematics. Thank you for your support.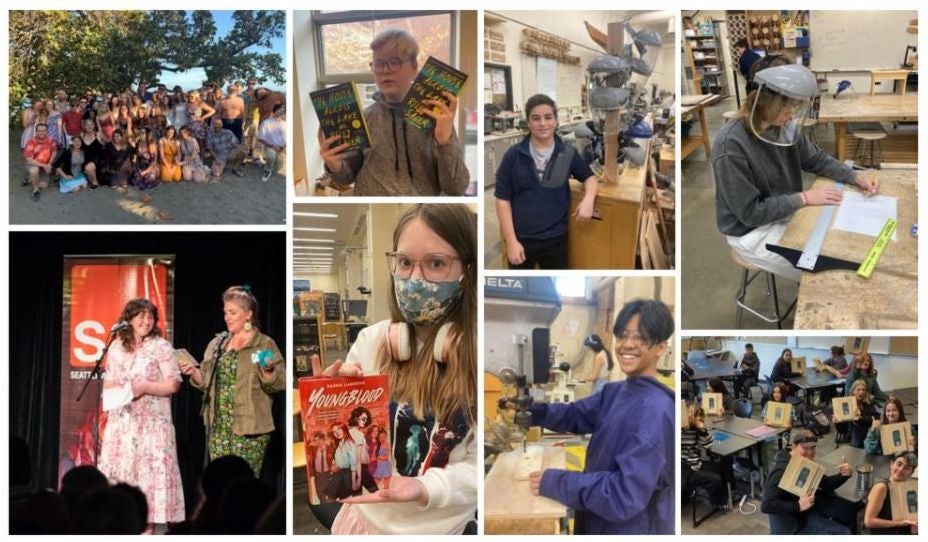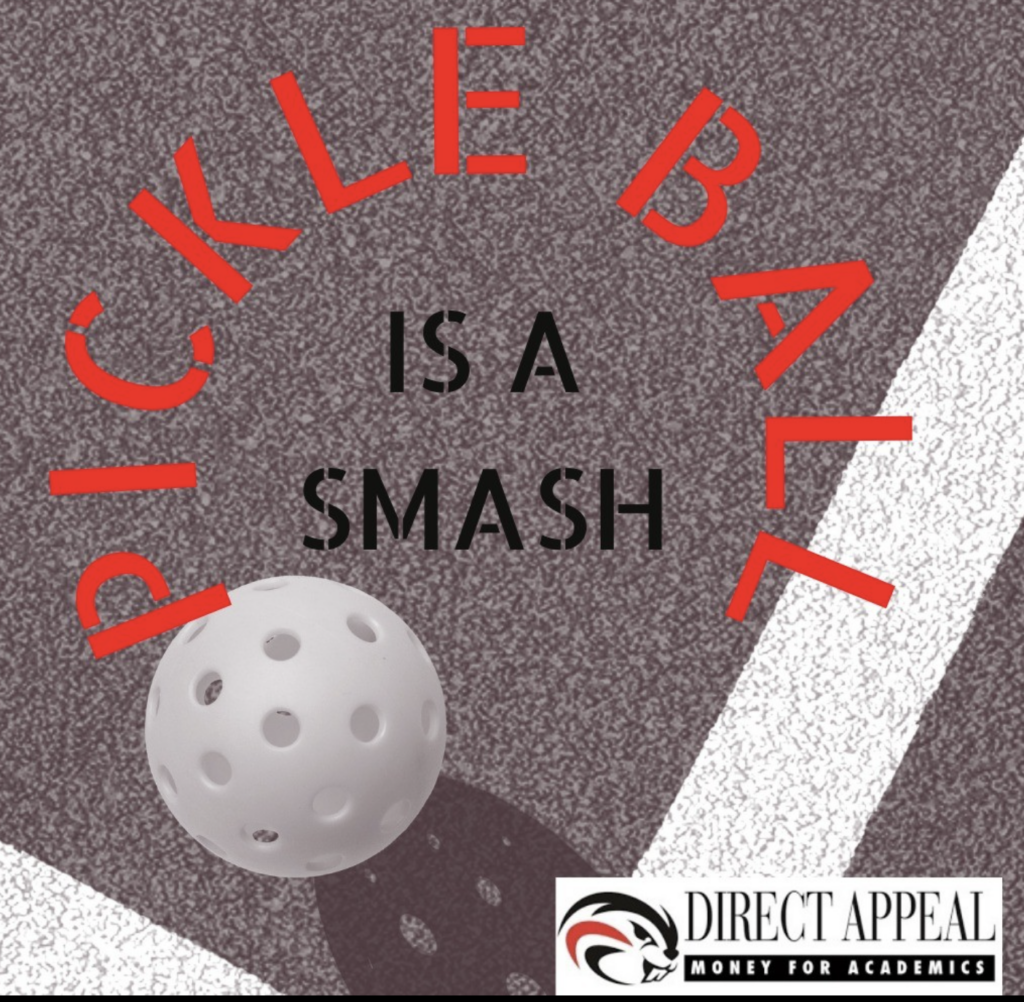 Thanks to your Direct Appeal donations, BHS PE students can play the most Washington-iest game out there! That's right, hot on the heels of Gov. Jay Inslee signing a bill into law last spring that made Pickleball THE official state sport of Washington, PE instructor Wendy Cunningham requested Pickleball racquets and balls for our Beavers.
Grant and game on! Thank you for your support of Direct Appeal. Only a few more weeks left to give, even the smallest donation helps our students stay in the game.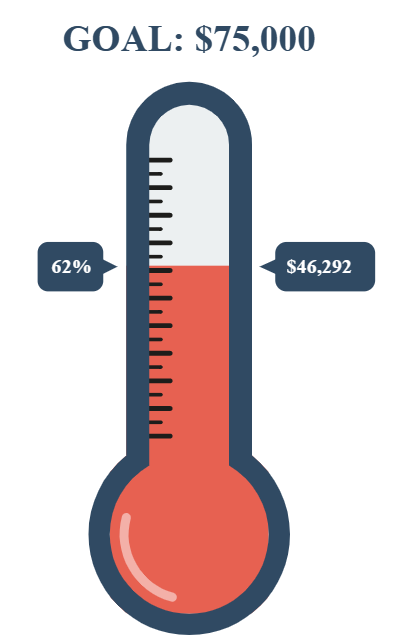 Already helped? Thanks so much for your support, and don't forget to ask your employer about matching gifts!
Thank you so much to all who have donated so far. Over 150 parents, grandparents and neighbors have given more than $45,000 to support to the BHS Direct Appeal this year. Your donation goes to support teachers and students with essential academic programs. Meeting this goal is critical to closing the funding gaps that directly affect our kids. Let's keep it up!
One-time donations are a huge help, and no donation is too small – you can even donate monthly in whatever amount works for you, instead of all at once.
Once a year, the BHS PTSA raises funds to support academics. This is the only donation request that goes to support academic materials, curriculum, technology, extra teaching support, and enrichment opportunities. We know that you get a lot of requests for funding, but this may be the most important donation you make this year. Our Goal is $75,000 We can do it, but only with your help!
Every single dollar counts, and we are grateful for your tax-deductible contribution.
Consider a Monthly/Yearly Donation. Go to the Frequency Donation Form
Thank you for supporting academic success for our students at Ballard HS.
---
BHS PTSA Direct Appeal
Donate Today to Support our 22-23 BHS PTSA Direct Appeal
Over the last several years, your donations were critical to funding grants that enabled virtual school and to close the gaps on learning loss. Past items purchased with funds raised through Direct Appeal have included:
• Teaching Supplies for Teachers • Interactive Technology to Increase Online Engagement • Multilingual Music, Dancing and Cooking Classes • Books for Pride Book Club • Microscopes • Molecular Models • Foreign Language Learning Software • English Literature Materials • Centrifuges • Spectrophotometer • Lab Tables • Bathymetric Charts • Digital Filmmaking Equipment
We ask that you consider a donation of any amount, from $5 to $5,000. Every single dollar counts, and we are grateful for the contribution. All donations are tax deductible (tax ID #91-1303069). Many companies will match employee donations; please ask your company if they provide corporate matching – it is an easy way to magnify the impact of your contribution.
Did you know that BHS students can explore science in the field with a little help from Direct Appeal funds?
Ballard has been conducting science trips to Maui since 2014. Students are part of a community team that helps everyone stay safe, learn, travel to amazing places, complete service projects, cook/eat/clean up food and have epic experiences. Students earn a semester of Ecology credit on the trip, a process that has existed since Ms. Megan Vogel (RIP) started taking students to Thailand and Peru. They complete a full science project on an ecology-related topic of their choice, and become leaders in almost every way. Students also learn about and have service learning with Indigenous Hawaiian organizations.
BHS students have the opportunity to be part of a community team that travels to amazing places, complete service projects. Students earn a semester of Ecology credit on the trip and have service learning with Indigenous Hawaiian organizations.
"In 2022, the scholarship money from the Ballard PTSA will enable 8 students to attend the trip who would not have been able to participate otherwise. We are thrilled to be able to offer scholarships to every student who applied for one. We are grateful for all the support for student opportunities for active learning and research in the field. The trips are life-changing for many students."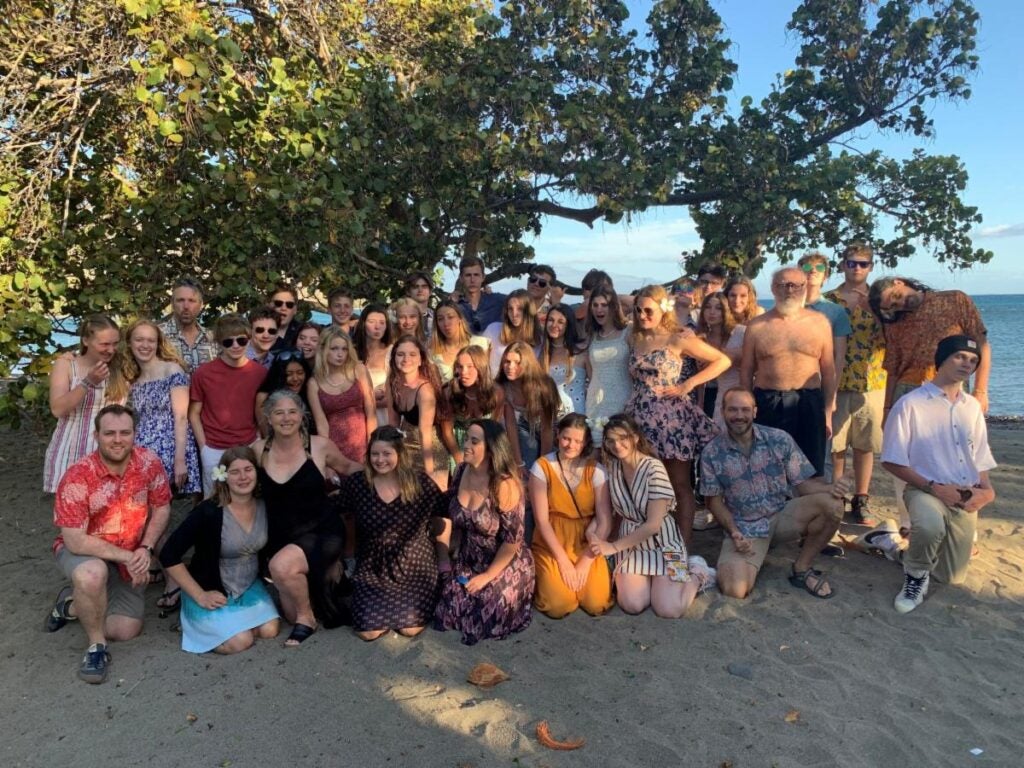 Thank you for supporting our students, and thank you for caring about BHS academics as much as we do. Please help us get closer to our goal so we can fund everything the teachers and students need.
– Noam J Gundle, Ballard Maritime Academy Science Educator
---
Here's what a few of the teachers at BHS had to say Last Year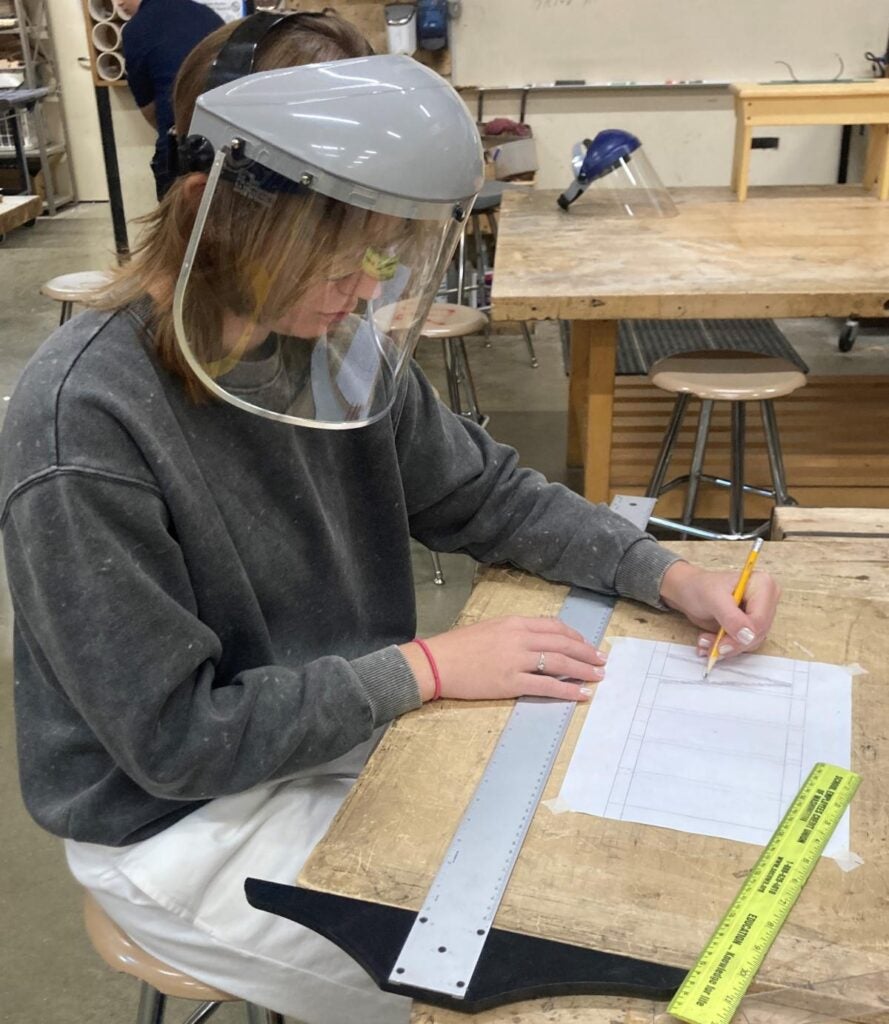 "One of the issues I have in shop classes is convincing students to wear their eye protection in class. When we came back to school from the pandemic, it was even harder because the combination of masks and safety glasses means the glasses fog up quickly. One of the ways to avoid this is to use a face shield. Unfortunately, most of the face shields I had were old, the straps were broken and taped together and the screens were scratched and yellowed. The addition of the new glasses and shields means that not only do shop students have the option of face shields, but also fancy new safety glasses that they are more likely to wear. Thanks to the PTSA for your support of BHS students and teachers" – John Foster, Shop Teacher, Ballard High School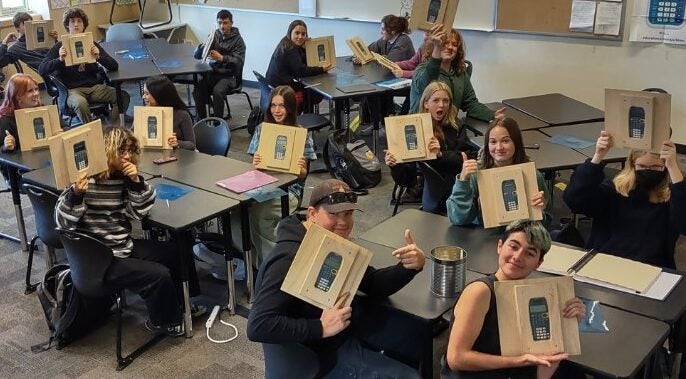 "Your donations, like the new set of Geometry calculators, definitely add up: "My classroom has benefitted from the donation of calculators and plywood which allowed me to make 'cases' for the calculators. The idea was similar to gas station keys designed to not easily be taken from the premises by being attached to some larger, awkward object. I constructed a classroom set of these cases, and was able to distribute my original calculators to other classes to keep their numbers up to full class sizes." – Jan Drabek, Math Teacher. Thanks for donating to Direct Appeal!"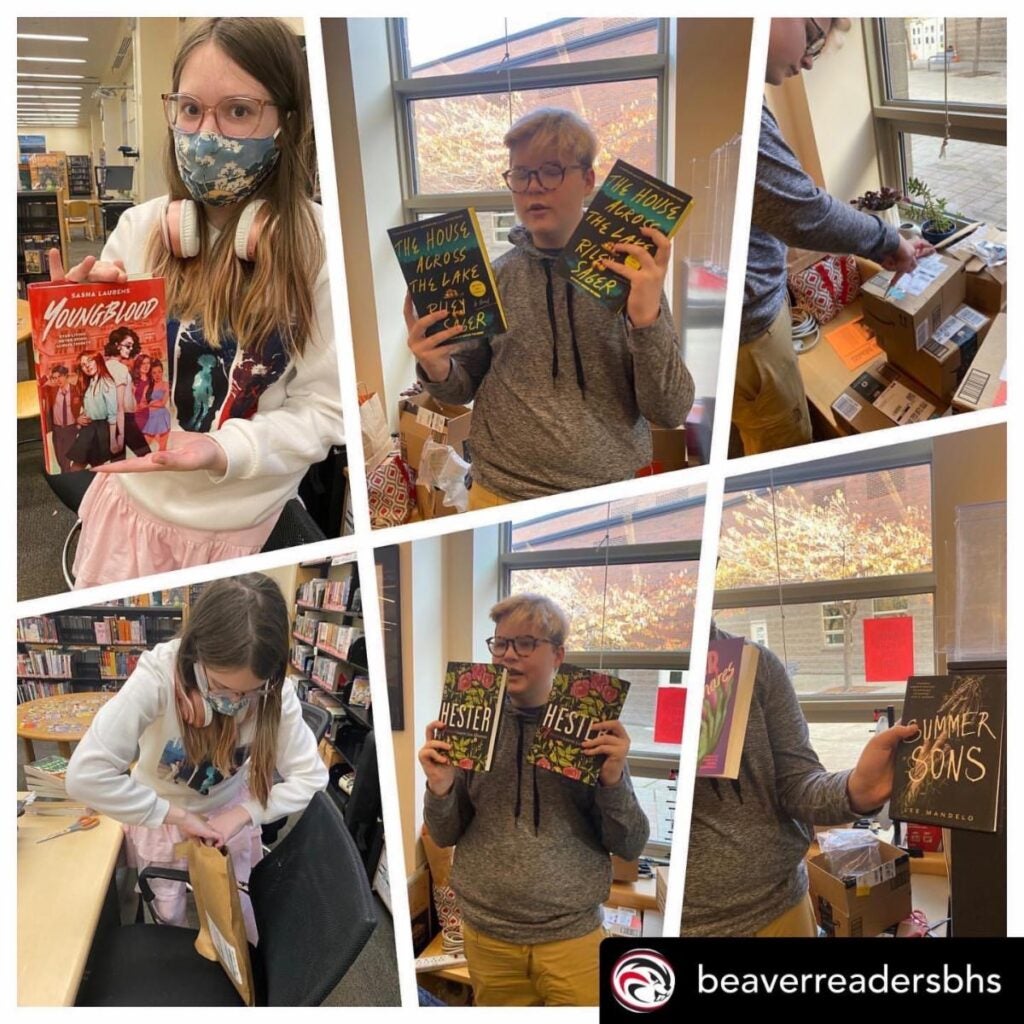 "Thank you again for your generous gifts. I have gotten all textbooks and workbooks online now. Thank you again!" – Sachiko Smith, World Languages
"Thanks a lot for your generosity and this opportunity one more time. This time more than ever we need your support and this means a lot for us and our students." – Vanesa Lopez Madrid, World Languages
The Ballard High School Library recently celebrated the arrival of new books, purchased with PTSA grant dollars. ~ Thank you BHS PTSA! Ms. Chambers
---
About the Ballard High School PTSA
In addition to these fundraising efforts, your Ballard PTSA works to support our school community through our advocacy efforts and legislative watch, volunteer work, community outreach and more.
Your involvement, whether donating to our Direct Appeal, volunteering your time and skills, or joining us at a PTSA General Meeting ALL help us support your Ballard High School community of parents, teachers and students.
Thank You!
Terry Richardson BHS PTSA Direct Appeal Chair
bhs.ptsa.directappeal@gmail.com