Student Photo ID, ASB Fees & Yearbook Information
Posted: | Updated:
Summary: Student ID | Activity Card | Yearbook Sales Windows
School ID & Yearbook Information
Student ID/ASB Activity Card
School pictures are used for the yearbook and Student ID cards and is an Activity Card if ASB fee is paid, all students will get their picture taken, no purchase required.
Retake Day Oct 24
Oct 24: For students who want to retake a photo. If wanting a new Student ID cost is $5.
Activity Card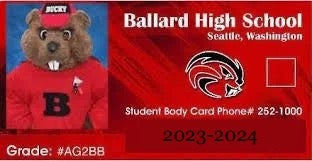 School ID/Activity Card – Distributed at school after picture day.
Yearbook – Smile and look your best!

Seniors can submit a Senior Portrait by Oct 31, 2023 to be used in the Yearbook instead of the Student ID Picture.
Student ID Cards should be available by the first week of October! Pick Up Date posted soon!
---
Senior Families
Senior Portraits
School Photographers, Rowland Studios, are available to schedule a Senior Portrait, however it is not required that your Senior Portrait photo be taken at their studio. Senior Portraits are due Oct. 31. If seniors do not submit a photo to the yearbook staff, they will use the Student ID photo instead.
Read more details on the Senior Portrait page.
Senior Grad Ads
Grad Ads are an opportunity for families to submit photos and a personal message for graduating seniors. They include photos of your choice (school appropriate) and a personalized message of your choice for your graduating student, friend, etc. 
Check back for how to submit your Senior Grad Ad.
---
Yearbook Pre-Sales The Shingle
Yearbook Sales Windows
9/6/23 – 9/27/23  $60
1/2/24 – 1/23/24 $65
4/1/24 – 4/29/24 (excludes Spring Break 4/8/24 – 4/12/24) $70
Yearbooks can be purchased online via parents/guardians Source/School Pay account. Yearbooks will also be sold in the Activity Center at lunch and after school with cash, check or Debit/Credit Card.
SchoolPay Tips to See if You Pre-Purchased a Yearbook!
Logon to the Parent Source/SchoolPay
Verify you are on the correct student account
If the Yearbook option is not displayed on SchoolPay check the payment history to see if already purchased

Open the History menu in the upper right portion of your screen
Select Items Purchased. SchoolPay will provide a search menu
Select the date range and student, and click the Search button