Spring Spirit Week – Read All the Details!
April 4, 2022

-

April 8, 2022
BHS Spring Spirit Week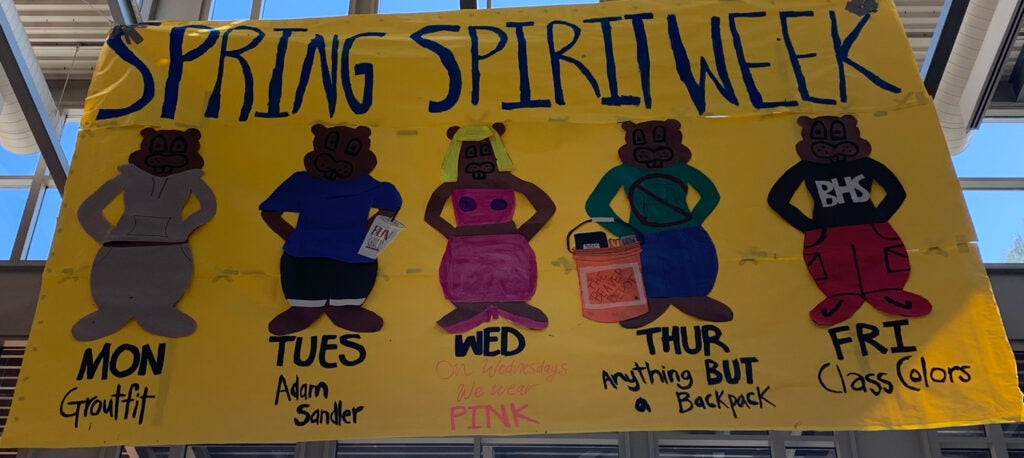 Monday: Groutfit – Comfy Sweats or any grey clothes you have
Tuesday: Adam Sandler Day – Dress up like Adam Sandler everyone's favorite style icon
Wednesday: Pink Out – Wear PINK | Check out all the things happening below on Wed as well!
Thursday: Anything But a Backpack (ABAB) – Bring all your school supplies in anything but a backpack. Yearbook Sales begin!
Friday: Class Colors – Seniors: Black, Juniors: Red, Sophomores: White and Freshman: Grey | Join the First Assembly of the Year too!
Beaver Bucks are back!! Show some spirit throughout the week for your class to collect bucks and fight for the Class Cup!
Tampon Drive. We are holding a tampon drive partnering with the T2P2 throughout the week. Donate in the BHS Main Office thru April 11.
Trivia Questions! Around the halls and in the Commons throughout the week students may get stopped to ask questions for the chance to win some Beaver Bucks!
---
---
Wed, April 6 Lots Going On!
Club Rush right after school at 2:30-3:00! Come to the first floor and see cool clubs and explore your interests!
Class of 2022 get your SPREE tickets too!
Pizza and Pep Night Returns! 6pm For the first time in two years, Mr. Gillespie Director of BHS Bands is inviting incoming Freshman band students to play pep band songs with Wind Ensemble students. They will start in the gym, learn songs, have pizza, head out to the field to play at the lacrosse game tailgate before the game begins. Parents are invited at the tailgate to see the action.
6:30pm Tailgate with Pep Band and the BHS Dance Team too!
Athletic Booster Club (ABC) will be there too selling Beaver Gear!
Watch the Girls Varsity Lacrosse game at Ballard HS at 7:30pm
Food Trucks! Honoring all women in sports! First 100 fans get free swag!
Fri, April 8 Special Bell Schedule for Assembly
Make sure to be there for the FIRST Assembly of the Year. Bring your Spirit and get ready for a good time!! If students do not feel ready to be in the gym for the assembly, we are offering the Commons as a more socially distanced space. A few staff members will be on hand to support students.
Follow the Special Bell Schedule on Friday
Period 1: 8:45 – 9:35
Period 2: 9:40 – 10:30
1st Floor: Leave at 10:25 (leaves 2nd period 5 minutes early)
2nd Floor: Leave at 10:30
Assembly: 10:35 – 11:15
Extended Passing Period: 11:15 – 11:20
Period 3: 11:25 – 12:15
Period 4: 12:20 – 1:10
Lunch: 1:15 – 1:45
Period 5: 1:50 – 2:40
Period 6: 2:45 – 3:35
Follow more Spirit Week updates, images and activities on the @ballardhighasb Instagram.
Thank you Ballard HS ASB!